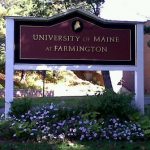 In order to help students interested in the legal field get into professional practice more quickly and with less debt, the University of Maine at Farmington is partnering with the University of Maine School of Law in Portland to give students the opportunity to earn both their Bachelor's degree and Juris Doctor (J.D.) law degree in only six years rather than seven.
UMF's new 3+3 Accelerated Pre-Law Program (APL) provides qualified UMF students with ready access to a path to a professional law degree a year early while also saving a year's worth of tuition and fees. The program is available this fall.
In addition, the program will help meet the state's rising shortage of lawyers in Maine's rural areas. According to data reported by the 2017 annual report of the Board of Overseers of the Bar, Maine counties, especially in the western part of the state, are experiencing a lawyer shortage at the same time as many lawyers are approaching retirement age.
"The shortage of Maine lawyers in the rural areas of the state has a serious impact on Maine citizens who need reliable access to legal services," said Michael Schoeppner, UMF assistant professor of history and 3+3 APL program coordinator. "This program has the potential to help fill those gaps and provide UMF students interested in pursuing a career in law with a more-affordable head start."
The new program allows UMF undergraduates in their junior year to apply for admission to the Maine Law Juris Doctor Program and for qualified applicants to be enrolled at the Law School for their senior year.
"UMF's liberal arts education provides a strong foundation for pre-professional studies, especially the study of law," said Eric C. Brown, interim UMF president. "This new collaboration between UMF and the University of Maine School of Law creates a bridge for students between our quality well-rounded and wide-ranging education and their law career aspirations.
Some of the undergraduate qualifications for the program include, maintaining a GPA of 3.5, being in good academic standing, achieving an acceptable score on the LSAT, and providing a letter of recommendation from the UMF program coordinator. Students who successfully complete their first year in the Maine Law program will receive their UMF bachelor's degree in their chosen major and be on their way to their law degree.
"The 3+3 Accelerated Pre-Law Program will enable students at the University of Maine at Farmington to pursue the study of law earlier and with less cost," said Danielle Conway, Dean and Professor at the University of Maine School of Law. "We are thrilled to collaborate with UMF to encourage more students to enter the legal profession, and also to raise awareness about the significance of the rule of law in supporting all of our communities in Maine."
Once enrolled at Maine Law, students will begin taking courses in Civil Procedure, Criminal and Constitutional Law, Property, Torts, Contracts and Legal Research and Writing.
To help students learn more about law school in general and UMF's new 3+3 Accelerated Pre-Law Program, Caroline Wilshusen, Associate Dean for Admissions at Maine Law, will be holding an information session from 12-1 p.m., Wednesday, Oct. 10, in Room 105, in the Roberts Learning Center on the UMF campus.
"We are excited to partner with the University of Maine at Farmington to create a pathway for students to a law degree," said Caroline Wilshusen, associate dean for admissions at Maine Law. "Our alumni are leaders throughout the State of Maine as well as community innovators and this is an opportunity to support students, as undergraduates, to those roles in their communities."
For more information, visit the UMF website.