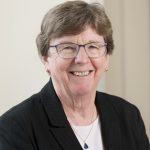 Bernstein Shur, a leading New England based law firm, has committed to a $50,000 gift to the University of Maine School of Law. This gift, made in honor of retiring shareholder Pat Peard, will support the areas of greatest need at Maine Law.
Described as a "justice warrior," Peard has been a tireless advocate for the LGBT+ community throughout her career. She led the more than ten-year fight to include sexual orientation as a protected category in the Maine Human Rights Act. She also worked on numerous campaigns to legalize same sex marriage. In recognition of these and her many other career milestones, she has received numerous awards. These awards include Equality Maine's first Lifetime Achievement Award; the Deborah Morton Award from the University of New England; L. Kinvin Wroth Award from Maine Law; the Justice Scolnik Award from the American Civil Liberties Union of Maine; and the Take a Stand Award from the Holocaust and Human Rights Center of Maine.
"I've known Pat since the very beginning of her legal career," said Pat Scully, Chief Executive Officer at Bernstein Shur.  "In fact, I interviewed her when she was a 2L at Maine Law and brought her on to work as a summer associate. I knew from our first encounter that she would make a great Bernstein Shur lawyer."
"Honoring Pat's legacy through Bernstein Shur's commitment to support Maine Law is such a wonderful way to celebrate Pat's extraordinary legal career and her State-wide leadership on important social issues," continued Scully. "We also support the fantastic institution that provided us such a wonderful lawyer, leader, colleague, and friend."
Peard received her J.D. degree from Maine Law in 1988. Until her recent retirement, she was the Chair of the firm's Education Practice Group. She practiced in all areas of employment and labor law, with an emphasis on the needs of colleges, universities, and secondary schools. She served on the firm's Board of Directors for many years and also served as Co-Chair of the Litigation Group and Chair and Co-Chair of the Labor & Employment Group. Peard was also a member of Bernstein Shur's Litigation and Dispute Resolution Practice Group. Prior to attending law school, she was a secondary school teacher. She received her M.A. from the University of Minnesota and her B.A. from Wilson College.
"I am honored to accept this $50,000 gift from Bernstein Shur in honor of alumna Pat Peard," said Danielle Conway, Dean of the University of Maine School of Law. "Pat demonstrates how a lawyer should combine leadership and a commitment to equity to serve individuals, the community, and the legal profession. She is the kind of lawyer-leader whom we strive to emulate in pursuing excellence in our teaching, service, and scholarship at Maine Law."
The University of Maine School of Law is the state's public and only law school, and a vital resource serving the local, regional, national, and global community. This gift from Bernstein Shur will help to support the Law School's mission to provide an accessible and affordable student-focused program of legal education.