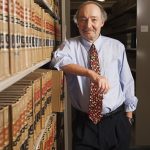 Lawdragon recently announced its inaugural list of 500 Leading U.S. Environmental & Energy Lawyers, and Maine Law Professor Jeff Thaler was selected as one of only two Maine lawyers. The honorees were selected through submissions, journalistic research, and editorial vetting from a board of peers.
"This is our inaugural guide to Environmental & Energy lawyers and features attorneys who specialize in protecting the environment, helping companies enhance sustainable efforts and transform our focus to a greener world," said Lawdragon in their release. "We are especially proud of the representation of public interest lawyers and academics alongside private counsel."
Professor Thaler is a professor of practice at the University of Maine School of Law, and associate university counsel and project counsel for the University of Maine System. He currently teaches Administrative Law, the Environmental and Administrative Law Practicum, and Energy Law. He is also an associate faculty member of the University of Maine's Climate Change Institute. Additionally, he has been permitting counsel for on-and off-shore wind projects and hydro power and wood-to-biofuel facilities, as well as many other commercial development projects. He is the attorney for University of Maine's floating deepwater wind projects. Professor Thaler's most recent research focuses on the American government's legal reach when responding to the COVID-19 pandemic.
The complete list of Lawdragon's 500 Leading Environmental and Energy Laws is available on their website.