When it comes to intellectual property tax law Professor Jeffrey Maine has quite literally written the book.
Actually, he's written several about this subject alone, but his most recent publication, Taxation of Intellectual Property Law and Practice, is poised to become the essential text on this topic.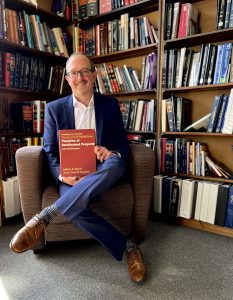 Co-authored with Xuan-Thao Nguyen, Director of the Center for Intellectual Property Law and Innovation at Indiana University's Robert H. McKinney School of Law, the 1,200-page treatise covers tax treatments involving all facets of intellectual property.
"We cover the full lifecycle of intellectual property, so, creation, acquisition, exploitation, sale, disposition, and charitable giving," Maine said.
The book reflects the rapidly changing nature of tax and intellectual property and will be updated by Maine and Nguyen on an annual basis. Maine Law offered one of the first intellectual property programs in the country, begun decades ago, which drew Maine to Maine Law. He's had the opportunity to not only watch the field evolve but shape its development.
"This subject has become increasingly important as the ubiquity of intangible assets and their value has increased," Maine explained. "We've seen more guidance from the IRS about the tax treatment of intellectual property transactions, and more corporations managing their intellectual property assets in a tax-efficient manner to maximize value."
This book will serve as a reference for tax practitioners, accountants, and general counsel, and will adapt and adopt new content to reflect the ever-changing landscape of intellectual property tax law. These updates also offer Maine a chance to involve students in research and writing that deals with emergent legal issues.
"I think the next frontier is going to be dealing with cryptocurrency and non-fungible tokens (NFTs)," Maine explained. "There are so many interesting questions around this, like, should crypto be treated as actual currency? A lot of people would say yes, but right now it's treated in federal tax law as property."
What Maine enjoys most about this field of study is exactly what he said keeps others away, its relentless expansion and the challenges therein. Despite what many think, Maine added, not everything about taxation is codified into law, and part of his job is to probe those less defined areas and encourage students to do the same.
"This is a scary area for many lawyers because anything involving intangible assets is always a little intimidating," Maine continued. "But what makes it menacing is also what makes it interesting and rewarding."