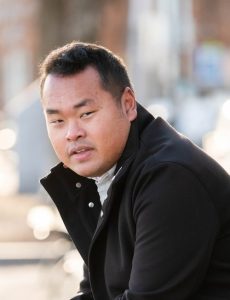 "Barack Obama says in his own memoir that 'the law is memory,'" Marpheen Chann reflected. "That resonates with me."
The former president is discussing the codified, legal history of racism across America, but Chann said that's only part of what he means when reciting the sentiment. In his case, the quote is far more personal.
Chann graduated from Maine Law in 2017. In some ways, his three years in law school passed in the stereotypical fashion: late nights, too many hours in the library, and fomenting lasting connections with professors and peers.
It was also during his time at Maine Law, however, that Chann began writing his memoir, Moon in Full, which was released on June 15, 2022.
A child of a Cambodian immigrant who found himself in foster care in Maine before his eventual adoption (along with three of his siblings) to a white middle-class family in Naples, ME, Chann said he had plenty to write about despite his young age. During his time living with his adoptive parents, Chann also came out as gay, which his family struggled to accept.
While receiving his BA from the University of Southern Maine and shortly before beginning law school, Chann became active in immigrant advocacy groups. When he was asked to give a speech at a rally, Chann said his life story began pouring out. His time at Maine Law helped unlock more memories and make sense of a tumultuous childhood.
"Many of the courses I took at Maine Law actually opened windows for me to look through, back at my own story," Chann recounted. "I even went back and looked up the decision in one of the cases from when I was a kid regarding our adoption. That case was cited in subsequent cases so in some way, my siblings and I were part of legal precedent in the state."
Law school also helped Chann decipher systems and bureaucracies, those that dictated his life as a kid and those that would steer his life after law school as an advocate for Maine immigrant communities, including as co-founder of Khmer Maine.
"Being able to understand the legislative process, how to argue and lobby effectively, and how to build productive relationships were all things I took with me from Maine Law into my career," he continued. "And the writing, well, obviously, that was a key skill I developed during that time."
Chann is currently launching his memoir and first book and is unsure about the future of his writing career. This story felt like one he needed to tell, not just for himself but as a reflection of the myriad immigrant experiences throughout Maine and beyond. While he's not sure what his writing career holds, Chann said he will continue to advocate for migrant communities utilizing the skills and relationships developed at Maine Law.
"If the law is memory, then I want to help build a better legal history for our state and country," Chann said. "There's a lot to fix but there's a lot to be hopeful for as well. Maine Law helped me tp not just see the good but to be the good."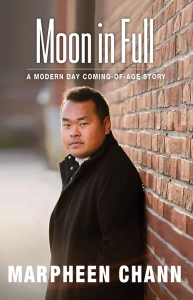 Synopsis of Moon in Full 
Moon in Full, a contemporary coming-of-age story, shines light on one young man's search for truth and compassion in a complicated era as it unwinds the deep-seated challenges we all face finding our authentic voice and true identities. Author Marpheen Chann's heart-warming journey weaves through housing projects and foster homes; into houses of worship and across college campuses; and playing out in working-class Maine where he struggles to find his place. Adopted into in a majority white community, Chann must reconcile his fears and secret longings as a young gay man with the devoutly religious beliefs of his new family. Chann, a second-generation Asian American, recounts what he has learned, what he has lost, and what he has found during his evolution from a hungry refugee's son to religious youth to advocate for acceptance and equality.