The University of Maine School of Law recently presented two Distinguished Service Awards to outstanding alumni during Reunion Weekend on May 18. Patrick Scully '84 and Elizabeth Stout '90 were both honored for their significant contributions to Maine Law and their communities.
The Distinguished Service Award(s) is presented annually by the Alumni Engagement Committee of the University of Maine School of Law Foundation Board. The recipient is chosen for outstanding achievement, exceptional service to the advancement of the Law School, and service to the community.
Elizabeth Stout '90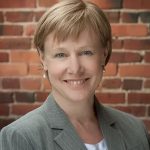 Elizabeth Stout has had a career that has spanned work as an assistant district attorney, a business litigator, an assistant attorney general, and since 2002, as a family law attorney, guardian ad litem and mediator. She is currently the executive director of the Maine Community Law Center (MCLC), a nonprofit she created in the fall of 2015 to serve the people of Maine, to provide legal assistance at affordable rates, and to improve the practice of law across the state for the benefit of Maine residents. The MCLC also serves as an incubator for new lawyers and routinely hires Maine Law graduates.
Deirdre Smith, professor and director of the Cumberland Legal Aid Clinic, presented the award to Attorney Stout.
"In 2015, Liz took the courageous and visionary step to launch a non-profit organization; the Maine Community Law Center," said Professor Smith. "With her commitment to improving the quality of lawyering, expanding access to justice, and serving the greater Maine Law community, Liz personifies and exemplifies the values and mission of the Law School."
Pat Scully '84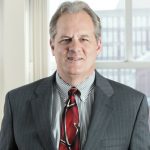 Pat Scully has spent his entire legal career as a valued member of Bernstein Shur. He started with the firm in 1984, right out of Maine Law, initially in Litigation, then in Municipal and Administrative Law with a focus on Energy Regulatory work. Pat has been a partner since 1990, chaired the firm's Municipal Practice Group for 10 years, and served on its Board of Directors for 20 years. Pat has served as CEO of Bernstein Shur for the past 6 years. In 2016, Pat joined the University of Maine School of Law Foundation Board.  In this role, he has worked tirelessly on fundraising projects that, through his time commitment, dedication, and leverage of personal connections on behalf of Maine Law, have brought in over $125,000 in commitments that will support the Law School's programs and operations over the next 5 years.
Danielle Conway, dean and professor at Maine Law, presented the award to Patrick Scully.
"Pat Scully has been a force in gaining support throughout the legal community for Maine Law," said Dean Conway. "He understands the value of the public and only law school in Maine, and he is adept at conveying the importance of the rule of law to all members of our community. He has been an extraordinary fundraising partner and a loyal friend."
Reunion Weekend
Maine Law hosted its annual Reunion Weekend May 17-18. Over 100 alumni attended the reunion and enjoyed a range of activities including a reception at Rising Tide; lunch with the Dean and faculty members; a CLE course taught by Associate Dean Dmitry Bam; and a lobster bake on Peaks Island.