The University of Maine School of Law has launched an innovative Arctic Law Fellowship program. The new program provides opportunities for students to study the intersections of law and science coupled with field experiences at an Arctic location.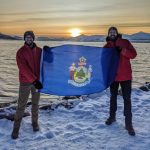 The inaugural Arctic Law Fellows, Sander Goldthwait and Eli Murphy, are spending this semester studying at the Arctic University of Norway in Tromsø. As part of their fellowship experience, they will travel further north to the science research center on the island of Svlabard.
This summer, Arctic Law Fellows, Lexis Anderson and Justin Cary, will work on an expedition to Greenland with scientists associated with the University of Maine Climate Change Institute (CCI). In preparation, they are learning about Arctic research permits, National Science Foundation Guidelines, the World Heritage Treaty, and intergovernmental science agreements. This spring semester they have  started to work with their new CCI scientist colleagues. The Fellows will have the opportunity to intern with the Arctic Futures Institute (AFI) during the summer.
Charles H. Norchi, the Benjamin Thompson Professor of Law at Maine Law, supervises the Arctic Law Fellows. In 2018, he served as the Arctic Fulbright to the Ministry of Foreign Affairs of Iceland where he taught and conducted Arctic law research. He is known worldwide for his work on oceans and international law in the Arctic, in Afghanistan, and beyond. He has been recognized for his notable work by his election as fellow in the World Academy of Arts and Sciences, as national fellow of the Explorers Club, and as twice-elected chair of the American Association of Law Schools Section on Admiralty and Maritime Law.
"Through this unique initiative, students will learn Arctic law, the national and international regulations with which Arctic expeditions must comply, and they will also benefit from a field experience," said Professor Norchi.
The Fellowship is one of many Arctic-focused opportunities available to law students at Maine Law. Students can work on scholarship as members of the Ocean & Coastal Law Journal and participate in training and research through the Law School's Center for Oceans and Coastal Law.
Story Update
The inaugural fellows, Sander Goldthwait '21 and Eli Murphy '21, traveled to Tromsø, Norway to study at the Arctic University of Norway in January 2020. Although their time in Norway was shortened due to the COVID-19 pandemic, they were able to study in the Arctic and undertake research which they completed in Maine. Each has plans to return to Norway.
This past summer, Arctic Law Fellows Lexis Anderson '21 and Justin Cary '22 were to participate with scientists in an expedition to Greenland guided by Professor Norchi and Paul Mayewski, director of the Climate Change Institute. The pandemic caused the cancellation of that mission, however, the students spent a productive summer working on an expedition law project with the Maine-based Arctic Futures Institute.