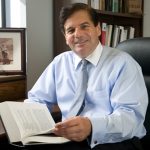 Professor Charles H. Norchi has been named the Fulbright-Ministry of Foreign Affairs Arctic Scholar for the Republic of Iceland. He will be affiliated with the University of Iceland School of Law, the Centre for Arctic Policy Studies, and the University of Akureyri Polar Law Program.
The Fulbright program was launched in 1946 and is overseen by the United States Department of State Bureau of Educational and Cultural Affairs. Distinguished Fulbright alumni include heads of state, judges, ambassadors, cabinet ministers, CEOs, university presidents, leading journalists, artists, scientists, and professors and includes 58 Nobel Laureates, 82 Pulitzer Prize winners, 31 MacArthur Fellows, and 16 Presidential Medal of Freedom recipients.
"It is a distinct achievement, both individually and institutionally, to have Professor Norchi join the ranks of prominent Fulbright Award recipients," said Dean Danielle Conway, herself a Fulbright Senior Scholar to Australia in 2006-2007.  "I know from first-hand experience that Professor Norchi will learn as much as he imparts when he represents Maine Law as an educational exchange ambassador to Iceland."
Professor Charles Norchi is the University Trustee Professor (2016-17) and Director of the Center for Oceans and Coastal Law. He has devoted his Trustee Professorship to a range of activities pertaining to the Arctic. He was a member of the host committee for the recent Arctic Council sessions in Portland, Maine. In this role, Professor Norchi worked with the Maine North Atlantic Development Office to organize the Maine – Arctic Forum and with the editors of the Ocean & Coastal Law Journal to produce an Arctic Symposium issue. He recently represented Maine Law at the annual Arctic Circle Assembly in Reykjavik, Iceland; the Ramboll Shipping Roundtable convened at Pierce Atwood in Portland; and the Scandinavian Institute of Maritime Law in Oslo, Norway.
Professor Norchi will use the Arctic Fulbright award for research, teaching, and advancing Maine Law's institutional relationships in the "High North."