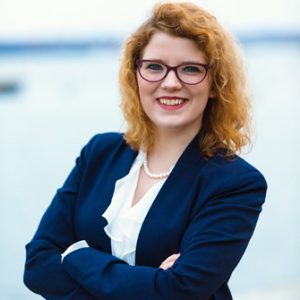 Five years ago, Shianne Bowlin, '21, was homeless. Now, as a mental health attorney for Disability Rights Maine (DRME), Bowlin assists Mainers in similar situations.
"When I was homeless and living in my car, I encountered a lot of people with mental health issues. These people didn't have access to resources like those we provide at DRME. I think about how different their lives could have been if they'd had this access," Bowlin said.
For many years, Bowlin struggled with housing insecurity while living in Indiana. She didn't have access to shelters for youth or women, and she decided to live out of her car because she couldn't afford both a car and an apartment.
Bowlin found secure housing when she enrolled at Maine Law in 2018, but said she still noticed many problems with housing around Maine, patterns that echoed her own experiences elsewhere. Housing insecurity and inequality is one of the most pressing social issues in Maine, Bowlin reflected, especially in cities.
"Many people are stuck in shelters, psychiatric wards, or even hospitals because they don't have access to housing," Bowlin said. "We're losing affordable housing left and right. We need to start funding more affordable housing, but we also need to fund social services like medical and mental health care. It's all connected."
Stepping in when a tenant is getting evicted due to mental health issues, advocating for affordable housing options, and conducting research to support legislative work are all part of Bowlin's day-to-day work. She also facilitates access to community health resources for those in need. A lot of her job also involves observing these systems and ensuring they work effectively, benefiting those who need them most.
"Shianne's story is truly a testament to the transformative power of a Maine Law degree," Caroline Wilshusen, associate dean of admissions, said. "Not only did Shianne improve her own situation but she is harnessing the knowledge gained from her degree and years of lived experience to catalyze important, substantive change in our community."
When starting at Maine Law, Bowlin said she knew she wanted to utilize the law to assist those struggling to access housing, but she wasn't sure exactly what that work might look like. Through a law clerkship, a legal internship, and working as a student attorney for the Cumberland Legal Aid Clinic, Bowlin honed her skills and developed a clear understanding of how she could have the most significant impact.
"You can make social change beyond just litigation," Bowlin explained. "I'm not sure if I fully understood this when I entered law school, but there are so many ways to use a Maine Law degree, and doing advocacy and legislative work can sometimes have even more of an impact than litigation. The best part of Maine Law is if you don't know exactly what you want to do you can try it out. There are opportunities everywhere."