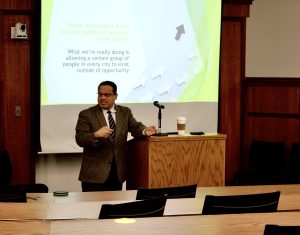 "What if we could change a system, would you do it? Would you reach for it?"
Minnesota Attorney General Keith Ellison asked this of Maine Law students on a snowy Friday in late February. He visited to speak with students, faculty, and the community about what he calls "the cycle of inaction."  As AG, Ellison led the team that successfully convicted Minneapolis police officer Derek Chauvin on the charge of the second-degree unintentional murder of George Floyd.
Ellison was the first African American and first Muslim American elected to statewide office in Minnesota when he became AG in 2019.  Prior to his term as AG, Ellison served in the United States House of Representatives from 2007 to 2019 where he championed consumer, worker, environmental, civil, and human rights protections.
In a talk peppered with quotes from John Locke to Herman Melville to Kenneth Clark, Ellison reached first for the moral explanation of why police brutality must be addressed, and then for the legal and societal foundations for the changes that are needed.
"I like to ground this conversation in the simple idea that what we're talking about is upholding the Constitution," Ellison said. "Everyone OK with that? Everyone here should be."
Our aim, Ellison said, should not be to villainize law enforcement or segments of the American public but to better understand and address the foundations of violence and crime that have become endemic to American society. Some communities, he added, are already succeeding at this.
"This is not a situation that is hopeless. We can reduce deadly force encounters with police, Newark has already done it. Newark officers fired zero shots in 2020 and in Camden, NJ, the same thing. It's because they embraced the problem and did something about it. These cities are reducing deadly force encounters, reducing payouts, saving lives, building trust, and actually being more effective at law enforcement."
By implementing targeted local solutions, strengthening law enforcement's capacity for community engagement, and bolstering civil society, meaningful change can be achieved, Ellison posited.   Wealth and educational disparities must be reduced, he explained. Substantial investments must be made in affordable housing. Support for those struggling with addiction and mental health issues will be critical.
His message was clear: change is possible, it's coming, and everyone can have a hand in that shift.
"No foreign power came to stop slavery, no foreign power came to stop Jim Crow Laws or segregation or to win women the right to vote," Ellison said. "Our country decided to do that, and that's something to remember and be proud of."
While at Maine Law, Ellison fielded questions from faculty and students, which ranged from broad inquiries about societal-level change to procedural topics. He also met with leaders from Greater Portland's immigrant community, including South Portland Mayor Deqa Dhalac and Portland City Councilor Pious Ali. His visit culminated in a public webinar, which was attended by people from around the state.
"We were so fortunate to host General Ellison and benefit from the depth of his knowledge and experience," Maine Law Dean Saufley said. "Our students and faculty have always been catalysts for positive change within the state, and I am inspired by their responses to the insights and challenges AG Ellison brought to Maine Law."
Watch the full webinar presented by Attorney General Keith Ellison here: