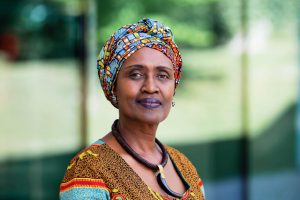 Fifty-eight percent of all new infections of HIV in Sub-Saharan Africa are among women and girls. In adolescents, six out of seven new infections occur in girls.
Winnie Byanyima, Executive Director of UNAIDS and Under-Secretary-General of the United Nations shared these statistics during Maine Law's 2022 Justice for Women Lecture on Feb. 25.
She discussed these statistics not just to illustrate the vital work of her organization but to highlight the social, political, economic, and structural norms that fuel such a gendered disparity.
"It is the social norms that are part of public policy that enable boys to go to school and girls to stay out of school," Byanyima said. "When girls are in school, they are more protected against the risk of assault and contracting HIV/AIDS."
This example is illustrative of a larger socio-political framework that enables inequality in Sub-Saharan Africa and beyond, she continued, and is tied to systemic issues of wealth disparity and inequality. Endemic inequality, however, does not have to be the norm.
"Inequalities are not like rain falling from heaven.… We can build national and global economies on the values that matter most to us." Byanyima said. "And what are those things? It is our health, our children's education, and our planet. We can build an economy where those are our top priorities."
Unraveling systems of inequality is hard work but can and has been done in places like New Zealand and Scandinavia, she suggested, advocating for a global movement where all of us work to dismantle structures of oppression. Such a struggle is "humanizing," she said. "It is defining. It is painful, as painful as it is joyous."
Chanbopha Himm, the co-founder of Unified Asian Communities and the Cambodian Community Association of Maine and program officer for the Maine Department of Health, has devoted her career to the quest for equality. Himm received the 2022 Courage is Contagious Award for her work with migrant communities in Maine, which was presented at the start of the lecture.
"My goal has always been to assemble leaders from our community and make sure they were not just at the table but that their voices were heard at the table," Himm said.
Watch the entire 2022 Justice For Women Lecture: