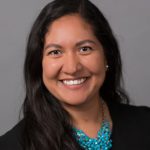 Maine Secretary of State Shenna Bellows recently announced the hiring of Joann Bautista, a 2018 graduate of the University of Maine School of Law, as deputy secretary of state. The daughter of Mexican immigrants, Bautista will be Maine's first Latina deputy secretary of state.
In her new role, Bautista will assist the Secretary by reviewing legislation and helping to craft departmental testimony on proposed bills, as well as department policy. She will help build partnerships across the State to assist with public outreach efforts around voting, with a view toward promoting voter participation for youth, minority, immigrant, and homeless citizens of Maine. She will review the constitutionality and practicality of legislation, with a goal of promoting accessibility of voting while maintaining the integrity and security of elections. She will also review legislation as well as internal department policies for equity and inclusion.
"Joann has an outstanding record of service and a long-standing commitment to equity and inclusion," said Secretary Bellows. "Her experience and legal background will be an incredible asset to us as we shape policy to advance democracy, strengthen privacy, and be a more welcoming and inclusive agency."
During her time as a student at Maine Law, Bautista was very involved with the Refugee and Human Rights Clinic. Her past experience includes a range of social justice work, including advocacy for children, those experiencing homelessness and immigrants. She most recently worked as the advocacy director for Preble Street and special projects manager for the American Civil Liberties Union, both in Portland. She also served as a policy associate at the National Immigrant Justice Center in Washington, D.C., where she focused on issues impacting unaccompanied children and asylum seekers.
"I look forward to serving alongside the Secretary of State to bring about positive and equitable change for all Mainers," said Bautista. "I am also honored and overjoyed to be the first woman of color in this role, and I hope to not be the last."
The Secretary of State oversees three bureaus: the Maine State Archives, the Bureau of Corporations, Elections and Commissions (CEC), and the Bureau of Motor Vehicles (BMV). Bautista is joining the Secretary's eight-person central office staff, located in the historic Nash School building on the Statehouse campus.