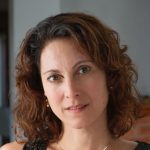 The University of Maine School of Law will host the 29th annual Judge Frank M. Coffin Lecture on Law and Public Service virtually on October 21, 2021. The distinguished lecturer for this year's event is Emily Bazelon, staff writer at the New York Times Magazine. She will discuss "Charged: The New Movement to Transform American Prosecution and End Mass Incarceration."
This Lecture Series, hosted annually by Maine Law, honors the late Judge Frank M. Coffin, longtime federal judge on the U.S. Court of Appeals for the First Circuit, former member of Congress, and renowned leader and mentor in public service.
Ms. Bazelon is a staff writer at the New York Times Magazine, the Truman Capote Fellow for Creative Writing and Law at Yale Law School, and a co-host of the Slate Political Gabfest, a popular weekly podcast. She is the author of two national bestsellers published by Penguin Random House: Charged, about the power of prosecutors, and Sticks and Stones, about how to prevent bullying. Charged won the 2020 Los Angeles Times Book Prize in the current interest category and the Silver Gavel Book Award from the American Bar Association.
Before joining the Times Magazine, Emily was a writer and editor for nine years at Slate. She is a graduate of Yale College and Yale Law School.
Ms. Bazelon will be introduced by Marty Lederman, an associate professor of law at Georgetown University Law Center and former Judge Coffin Clerk from 1987-88.
The 2021 Coffin Lecture begins at 7:00 pm and will be presented virtually via Zoom. This event is free and open to the public, but registration is required by October 19th at this link: https://bit.ly/2021-coffin. Registrants will receive a personalized Zoom link which provides access to the event.
For additional information on the Lecture, please contact the Office of Advancement at the University of Maine School of Law at lawalum@maine.edu.