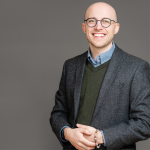 "I feel like I've won the lottery," Josh Rosen, a third-year Maine Law student said. "One reason I feel that way is because of the University of Maine system."
Rosen, who grew up in Enfield, Maine, received a Bachelor of Science degree in Earth and Climate Sciences from the University of Maine in 2013. In the years that followed, he worked as the Communications & IT Manager for the UMaine Advanced Structures and Composites Center and served a term on the Bangor City Council. Through professional and community engagement, Rosen regularly interacted with the emerging national offshore wind industry, research and development, and various levels of government.
"After almost a decade in Bangor, I felt the need to stretch my legs, personally and professionally. Multiple mentors suggested pursuing graduate school, and the MaineMBA seemed like a great way to learn and expand my career options."
Shortly after beginning the MaineMBA through the Maine Business School, he realized a dual JD/MBA could elevate a career focused on energy and climate. He received his MBA in 2021 and will graduate from Maine Law this spring, making him the first graduate of the Maine Business School's MaineMBA and Maine Law dual degree program.
Rosen recently received the Dean's Award from the Maine Business School for academic achievements and acts of service. During his time as a JD/MBA student, Rosen helped organize an interdisciplinary webinar on environmental and climate justice that attracted more than 400 participants; worked as a first-year Summer Associate at Bernstein Shur and a second-year Summer Associate at Foley Hoag, LLP of Boston; interned with the Governor's Energy Office and the Governor's Office of Policy Innovation and the Future; consulted with several Maine cities and towns on managing climate action and building a regional coalition; and consulted as a subject matter expert on offshore wind energy and supply chain development for the Maine International Trade Center.
In retrospect, Rosen isn't surprised by his passion for energy and climate. Rosen felt in his element from an early age while exploring nature and quickly grew to love science.
"I was, for lack of a better term, a trainee in Bill Nye's climate army," Rosen laughed. "I loved watching his show as a kid and discovering how science offers a way to make sense of the natural world. In the decades since, the more I learned about energy and climate, the more I realized how drastically both shape our lives–and why everything is at stake."
After graduation, Rosen will join one of Boston's most prominent law firms, Foley Hoag, LLP, as an associate attorney specializing in energy and climate law. In the meantime, alongside his legal studies, Rosen will continue to serve on the board of his synagogue in Portland and as an outspoken advocate for diversity and equity initiatives with a particular focus on the LGBTQ+ community.
"The University of Maine System exposed me to opportunities with business, government, and law, and highlighted the path to securing a career like this one," Rosen continued. "The education I gained through the University of Maine System, the support I received from my advisors, the personal connections made along the way, all of that set me up for success."
Rosen is quick to credit mentors and professors, the university system, and even Bill Nye for this success, but ultimately these achievements are the fruits of his dedication, hard work, and steady commitment to community and guiding principles of environmentalism.
"The tools I've been given through these dual degrees allow me to better understand the energy industry, which does not exist in a vacuum, but within an economic, regulatory, and social framework," Rosen said. "The next 30 years are critical. We must transition to a clean energy economy, and that transition requires strong collaborations between law, science, business, and our communities. I hope to do my part to support this transition while doing some good for our planet."