Shea Watson, a Portland native who graduated from Maine Law in 2019, discovered her passion for the legal profession while working as a constituent caseworker for Connecticut U.S. Senator Chris Murphy. Many of the requests Watson handled pertained to intricacies of social security payments, education, and housing, but one case marked a turning point for Watson.
"I had this one memorable experience. A constituent called and said he'd been a first responder on 9/11 and was convinced the government owed him a ton of money," Watson explained. "He was unhoused at the time and would call me every day from a Starbucks. After many phone calls, collaboration with other agencies, and hours of research, we figured out he was one of the first responders entitled to a life-changing sum of money under the James Zadroga 9/11 Health and Compensation Act. Our office never gave up on him, and that case helped me identify how much you can change someone's situation through legal research, perseverance, and just listening to their story."
As Maine Law's new Dean of Students, Watson is bringing this compassion, drive, and analytical problem-solving back to her alma mater and its student body. Watson began this summer in her new position. It didn't feel like a homecoming, she said, because she's remained connected to Maine Law since graduation, but a deepening of the relationship.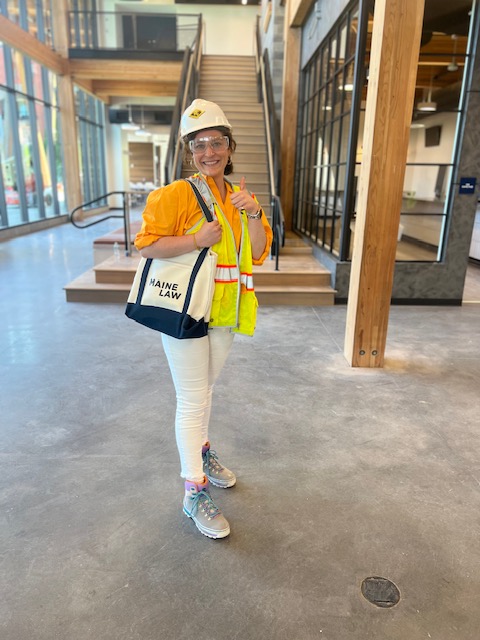 Since 2019, Watson worked as a Bar coach with Maine Law students and remained active in the Women's Law Section of the Maine State Bar Association. Through her involvement in the association, she helped develop a mentorship program and foster relationships between the law school and the Bar. Watson recently joined the Board of Directors for the National Conference of Women's Bar Associations, which she hopes will lead to even more opportunities for students at Maine Law.
Watson worked in civil and commercial litigation for several years post-graduation but said she missed the tight-knit atmosphere of Maine Law and the joy she derived from guiding people to the resources and assistance they require. Given this, Watson said she feels like her new role was crafted specifically for her.
"This is a fascinating and pivotal moment to be back at the law school," Watson reflected. "There is so much energy and initiative right now and the new location of Maine Law generates so many opportunities from a student services perspective."
Of course, Watson added, academics remain the primary focus of law school, but from her own experience, she understands students can't be successful academically without balance in all areas of their life. "No one says law school can't also be fun! I'm a firm believer that anything can be fun if you want it to be."
Watson has big plans for the upcoming school year and the Maine Law student body, but she also wants them to help steer these plans.
"I can't wait to meet all our students, to hear what they want, and figure out how we can make that happen," Watson said. "One of my main priorities right now is leveraging my familiarity with both Maine Law and Greater Portland and building bridges and networks between these communities."