As they "drew in a big breath and went for it" last March, Professors Peter Guffin and Rita Heimes weren't sure about their choice to hold Maine Law's Information Privacy Summer Institute virtually in the summer of 2020.
They were pleasantly surprised and relieved when two months later "it went terrifically," says Guffin, a Maine Law professor of practice who directs the Information Privacy Law Program and chairs Pierce Atwood's Privacy & Data Security practice.
The eleventh annual event, which featured courses taught by leading privacy professionals from around the country, was held virtually via Zoom from May 26 – June 12, 2020. The courses took a multi-faceted approach to examine the many privacy issues that have arisen as a result of the pandemic. Topics included privacy and the pandemic, AI technologies, emerging regulatory frameworks, and data protection and ethics. A one-day Privacy and Practice Conference was also held virtually on May 29, 2020 as part of the Summer Institute.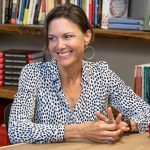 "It's been important to have fresh offerings each year," says Heimes, senior privacy fellow at Maine Law and privacy officer at the International Association of Privacy Professionals. "Because each summer we get to change it, it's practical, interesting, cutting-edge, and we keep up with the times."
These efforts are being noticed.Greg Powell '80 says he was flabbergasted to realize all that he'd been missing when he attended the Privacy in Practice Conference two summers ago to fulfill his CLE requirement.
"What a great assembly of people! And so much valuable information provided about such an important area that relates to all businesses," says Powell, chairman of the Harold Alfond Foundation. "I was highly impressed with the caliber of the conference."
The virtual format of 2020 made it easier for Maine lawyers and other professionals who wanted to focus on a particular aspect of privacy to fit in a course or two. It made it possible for top-notch instructors, located anywhere, to teach a summer privacy course without needing to travel to Maine. Additionally, students located in other states could now attend without leaving their homes.
These pluses have the potential to vastly expand the reach of the Summer Institute and that's a top goal for Guffin and Heimes, who have already begun to plan the program for 2021. The 12th annual event will be held virtually May 24 – June 10, 2021, and will feature offerings like a student showcase, and sessions on competition law, AI, and privacy.
Heimes and Guffin have also been brainstorming on ways to enhance online learning this summer, including holding courses during evenings and Fridays to reduce time away from work, school, or other commitments. "We're trying to broaden the audience," Heimes says. One big step toward that is focusing on creating a bridge to Northeastern University's Roux Institute, a new innovation hub, graduate school, and research center in Portland that may co-host this summer's Privacy in Practice Conference.
"We're looking for ways to collaborate with the Roux Institute and other graduate and professional programs at the University of Maine because information privacy is not just the domain of lawyers. It intersects with many other disciplines," Guffin says.
"Privacy problems are by their nature multidisciplinary, and finding solutions requires collaboration by lawyers with technical experts and other professionals," he continues. "Privacy lawyers aren't going to be able to do their jobs very effectively in my view, unless they're able to communicate and understand what other disciplines need and can contribute to solving these problems.
"Privacy is a critical area to emphasize right now, Heimes says, and one rich with opportunities for Maine Law students.
"In the early days, for the most part, privacy was a side gig that intellectual property lawyers did when their clients needed a privacy policy," she says. "The field has been growing steadily since early 2000, but now it's really going crazy. There's massive growth in this space and a demand for lawyers doing privacy."
Registration for the 2021 Information Privacy Summer Institute will open soon.