The University of Maine School of Law has expanded its offerings to include a new Certificate in Business and Transactional Law. Law students concentrating in business and transactional practice can now earn the certificate through an expansive course of study and experiential learning opportunities which are designed to fully engage them in this area of law.
Maine Law's program of legal education gives students the tools they need for business practice in all settings, including rural and small firm practice, as well as representation of larger corporate clients. Courses, seminars, and practicums in tax, commercial law, business associations, acquisitions and dispositions, and economic development focus on building business and transactional skills. The Law School's Compliance Certificate Program, which is now available entirely online, further facilitates ongoing collaborations with Maine-based enterprises.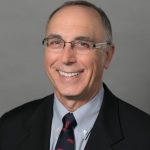 "The state-wide focus on economic development brings with it an increasing demand for lawyers with training and expertise in business, commercial, and transactional law matters," said Professor Andrew Kaufman, who teaches in the business and transactional law curriculum and coordinates the business and transactional law program. "At Maine Law, we are responding to this need through expanded and innovative course offerings. Many of our students choose to concentrate on these subjects during their time in law school, and this new certificate will recognize their commitment to and achievement in this important area of our curriculum."
The Law School's work with the University of Maine Graduate and Professional Center (Maine Center) has catalyzed recent interdisciplinary faculty collaborations to create new innovative course offerings for business and law students. Over the last year, Professor Kaufman worked closely with Jason Harkins, associate dean and associate professor of management for the University of Maine Business School, to create and co-teach a course for both J.D. and M.B.A. students. This course, which Professors Kaufman and Harkins first presented in spring 2021, provided students with direct exposure to how each discipline looks at and analyzed situations. Utilizing hypothetical business acquisition transactions, students were able to move through the steps as a lawyer and as a business executive working together. The same team will present a new collaborative course for law and M.B.A. students this fall on Startup and Entrepreneurship Law. Interdisciplinary course collaborations like these are supported by the generosity of the Harold Alfond Foundation.
Outside of the classroom, students have the opportunity to fully immerse themselves in this area of the law through internships, externships, and summer fellowships. Maine Law students can participate in the Maine Center Graduate Internship Program, which provides graduate and professional students with paid work experience, a peer network, and professional development. Law students can also complete business-focused externships for academic credit.
To earn the certificate, J.D. students must fulfill requirements in coursework, research and writing, and experiential learning. Individuals interested in the new Certificate in Business and Transactional Law should contact the Office of Admissions at the University of Maine School of Law at 207.780.4341 or lawadmissions@maine.edu.