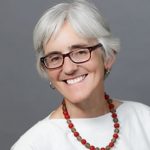 Jennifer Wriggins, the Sumner T. Bernstein Professor of Law at Maine Law, was recently selected to serve as an advisor of the American Law Institute's project, Restatement of the Law Third Torts: Concluding Provisions.
Founded in 1923, the American Law Institute (ALI) is the leading independent organization in the U.S. producing scholarly work to clarify, modernize, and otherwise improve the law. ALI drafts, discusses, revises, and publishes Restatements of the Law, Model Codes, and Principles of Law that are enormously influential in the courts and legislatures, as well as in legal scholarship and education.
At Maine Law, Professor Wriggins also serves as co-director of the Information Privacy Law Program. She is a nationally recognized scholar whose work focuses on torts, insurance, health law, and family law, with a frequent focus on race and gender.