View the digital program to find information on the lineup for the Lecture, biographies
on the amazing panelists and Courage is Contagious Award recipients, and more. A video recording of this event is available on Maine Law's YouTube Channel.

The University of Maine School of Law's 2021 Justice For Women Lecture will bring together an amazing lineup of activists from around the world for an engaging discussion on the impact of climate change on indigenous women. The tenth annual event is
scheduled to take place virtually on April 15, 2021 from 12:00 – 1:30 pm EDT
.
The Lecture will kick off with a special message from recently confirmed Secretary of the Interior Deb Haaland and a reading by Joan Naviyuk Kane, Inupiaq writer, Harvard, Scripps, and Tufts faculty. The panel discussion will be moderated by Joaqlin Estus, national correspondent for the Alaska bureau of Indian Country Today. Featured panelists include:
Galina Angarova – Executive Director at Cultural Survival
Quannah ChasingHorse – Land Protector and Climate Activist
Sherri Mitchell – Lawyer, Author, and Indigenous Rights Activist
Sara Olsvig – Ph.D. Fellow and Former MP of Greenland
2020 and 2021 Courage is Contagious Awards
As part of 2021 Justice For Women Lecture, Maine Law is honored to recognize Blanca Santiago and Donna Loring as the 2020 and 2021 recipients, respectively, of the Courage is Contagious Award.
Blanca Santiago (2020 Recipient)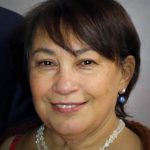 Blanca Santiago is a licensed clinical social worker who has spent three decades developing visibility, safe spaces, and resources for BIPOC, LGBTQIA individuals and others experiencing the effects of structural and societal oppression. After retiring last year, Blanca contracted with Portland Public Schools to help address issues of diversity and equity in the district. She supports a new generation of BIPOC social workers and is a consultant to Presente via Mano en Mano; in that capacity Blanca supports the behavioral health staff that serve Latinx and immigrant communities. She serves on the board of ILAP and the Foundation for Portland Public Schools. She is the founding member and president of El Centro Latino of Maine and has worked on three immigration reform campaigns over the last 15 years. Blanca holds an undergraduate degree in Organizational Leadership and a Master of Social Work.
Donna Loring (2021 Recipient)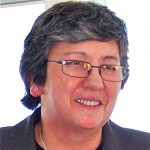 Donna M. Loring is an elder and former council member of the Penobscot Indian Nation. She entered into public service when she joined the Women's Army Corp. She served in Vietnam as a Communication Specialist, processing all the casualty reports for South East Asia. She was one of few enlisted women in the Vietnam War who served in a combat zone.
For over a decade, Donna was the Nation's Representative to the Maine State Legislature. She was appointed Aide de Camp to former Gov. Angus King and also served as the Senior Advisor of Tribal Affairs to Gov. Janet Mills.
Donna hosts "Wabanaki Windows" on WERU Community Radio. The University of New England houses her papers and sponsors an annual lecture series in her name. She was awarded an Honorary Doctorate Degree in Humane Letters by the University of Maine, and the Alumni Career Award from the University of Maine Alumni Association.
Registration
The 2021 Justice For Women Lecture is free and open to the public, but you must register to attend. Registrants will receive a personalized zoom link to access the event.
Justice For Women Lecture Series
The JFW Lecture Series, presented by the University of Maine School of Law, brings speakers to Maine each year to discuss their work and strategies to promote justice for women and girls. Maine Law established the series in 2011 with leadership and support from attorney and civic leader Catherine Lee of Lee International.
The Justice For Women Lecture Fund, an endowed fund, was created with the goal of sustaining the JFW Lecture Series in perpetuity. Supporters can make a gift to the lecture series using our online form.
Speaker Bios