Justice For Women Lecture Series
The JFW Lecture Series, presented by the University of Maine School of Law, brings speakers to Maine each year to discuss their work and strategies to promote justice for women and girls. Maine Law established the series in 2011 with leadership and support from attorney and civic leader Catherine Lee of Lee International.
The Justice For Women Lecture Fund, an endowed fund, was created with the goal of sustaining the JFW Lecture Series in perpetuity. Supporters can make a gift to the lecture series using our online form.
 A video recording of this event will be available on Maine Law's YouTube Channel.

Join us for the tenth annual Justice For Women Lecture, presented virtually on April 15, 2021 from 12:00 – 1:30 pm EST. We are excited to present an amazing lineup of activists from around the world for an engaging discussion on the impact of climate change on indigenous women. Featured panelists include:
Galina Angarova – Executive Director at Cultural Survival
Quannah ChasingHorse – Land Protector and Climate Activist
Sherri Mitchell – Lawyer, Author, and Indigenous Rights Activist
Sara Olsvig – Ph.D. Fellow and Former MP of Greenland

Speaker Bios
The Lecture will kick off with a special message from 

U.S. Representative Deb Haaland

 

and a reading by 

Joan Naviyuk Kane

, Inupiaq writer, Harvard, Scripps, and Tufts faculty. The panel discussion will be moderated by 

Joaqlin Estus

, national correspondent for the Alaska bureau of Indian Country Today. Members of the audience will have an opportunity to submit their questions to the panelists.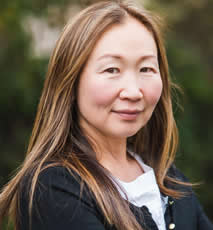 Galina Angarova is a representative of the Ekhirit nation of theBuryat Peoples, a Russian Indigenous group. Galina is currently
serving as the Executive Director of Cultural Survival, an
Indigenous-led NGO and U.S. registered non-profit advocating for
the rights of Indigenous Peoples. Galina comes to Cultural Survival
after serving as program officer at the Swift Foundation, and prior
to that, as representative of the Indigenous Peoples' Major Group
at the UN. Previously, Galina was the Russia program director at
Pacific Environment, where she organized direct actions against
large resource extraction projects in Siberia and the Russian Far
East.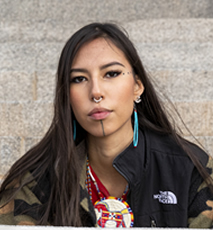 Quannah ChasingHorse is from the Han Gwich'in and Oglala
Lakota tribes and lives in Fairbanks, Alaska. She is an Indigenous
land protector for the Arctic National Wildlife Refuge, protecting
those sacred lands from oil development and fighting for climate
justice. Quannah's deep connection to the lands and her people's
way of life guides and informs everything she does and stands for.
She is passionate about Indigenous rights, MMIWG and
representation. She is an avid snowboarder, guitar player, and is
apprenticing as a traditional Indigenous tattoo artist. Quannah
was honored to make the 2020 list of Teen Vogue's "Top 21 under
21."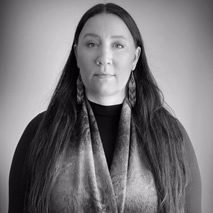 Sherri Mitchell -Weh'na Ha'mu Kwasset was born and raised on
the Penobscot Indian reservation. She received her J.D. and a
certificate in Indigenous People's Law and Policy from the
University of Arizona's James E. Rogers College of Law. Sherri is
an alumna of the American Indian Ambassador program, and the
Udall Native American Congressional Internship program. Sherri
also received the Mahoney Dunn International Human Rights and
Humanitarian Award, for research into Human Rights violations
against Indigenous Peoples. She was a longtime advisor to the
American Indian Institute's Healing the Future Program and
currently serves as an advisor to the Indigenous Elders and
Medicine People's Council of North and South America. She is the
Founding Director of the Land Peace Foundation, an organization
dedicated to the global protection of Indigenous rights and the
preservation of the Indigenous way of life. Prior to forming the
Land Peace Foundation, Sherri served as a law clerk to the
Solicitor of the United States Department of Interior; as an
Associate with Fredericks, Peebles and Morgan Law Firm; a civil
rights educator for the Maine Attorney General's Office, and; as
the Staff Attorney for the Native American Unit of Pine Tree Legal.
Sherri is the author of the award- winning book Sacred
Instructions; Indigenous Wisdom for Living Spirit-Based Change.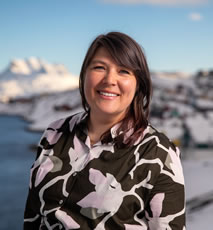 Sara O lsvig is a Ph.D. Fellow at Ilisimatusarfik, the University of
Greenland. She is the current chairwoman of Greenland's Human Rights
Council and an assigned member of the Constitutional Commission of
Greenland. She served as a Member of the Parliament of Denmark and
the Parliament of Greenland in the years 2011 to 2018 and has been
leader of the political party Inuit Ataqatigiit. Sara was Vice
Premier and Minister of Social Affairs, Families, Gender Equality and
Justice in the Government of Greenland from 2016 to 2018. She was also
the Chairperson of the Standing Committee of Parliamentarians of the
Arctic Region. Sara holds a M.Sc. in Anthropology. She had
previously worked as Executive Director for the Inuit Circumpolar Council Greenland and is now a delegate to the Council. She is Inuk and lives
in Nuuk with her partner and their children.
2020 and 2021 Courage is Contagious Awards
As part of 2021 Justice For Women Lecture, Maine Law is honored to recognize Blanca Santiago and Donna Loring as the 2020 and 2021 recipients, respectively, of the Courage is Contagious Award. The 2022 Courage is Contagious Award will be announced soon.
Blanca Santiago (2020 Recipient)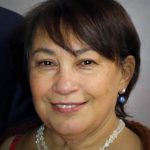 Blanca Santiago is a licensed clinical social worker who has spent three decades developing visibility, safe spaces, and resources for BIPOC, LGBTQIA individuals and others experiencing the effects of structural and societal oppression. After retiring last year, Blanca contracted with Portland Public Schools to help address issues of diversity and equity in the district. She supports a new generation of BIPOC social workers and is a consultant to Presente via Mano en Mano; in that capacity Blanca supports the behavioral health staff that serve Latinx and immigrant communities. She serves on the board of ILAP and the Foundation for Portland Public Schools. She is the founding member and president of El Centro Latino of Maine and has worked on three immigration reform campaigns over the last 15 years. Blanca holds an undergraduate degree in Organizational Leadership and a Master of Social Work.
Donna Loring (2021 Recipient)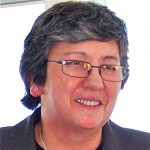 Donna M. Loring is an elder and former council member of the Penobscot Indian Nation. She entered into public service when she joined the Women's Army Corp. She served in Vietnam as a Communication Specialist, processing all the casualty reports for South East Asia. She was one of few enlisted women in the Vietnam War who served in a combat zone.
For over a decade, Donna was the Nation's Representative to the Maine State Legislature. She was appointed Aide de Camp to former Gov. Angus King and also served as the Senior Advisor of Tribal Affairs to Gov. Janet Mills.
Donna hosts "Wabanaki Windows" on WERU Community Radio. The University of New England houses her papers and sponsors an annual lecture series in her name. She was awarded an Honorary Doctorate Degree in