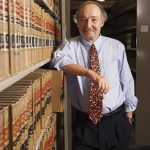 By Professor Jeff Thaler
When it rains in Maine, it pours: and that is especially true for me this fall.  On top of the normal fall busyness of teaching courses in Administrative Law and Energy Law, and continuing my legal representation of the floating offshore wind program at the University of Maine, I also have participated in a number of virtual presentations and projects.
On September 23rd, I kicked off the 2020-2021 Maine Law Faculty Lunch Talk Series with a presentation entitled, "When the Next Surge Comes: What Can Governors Do to Prevent More COVID-19 Deaths and Cases This Fall and Winter?," based on my forthcoming law review article in the Mitchell Hamline Law Journal of Public Policy and Practice. The same week, I completed work with two Maine Law students and Vice-Dean Dmitry Bam on "Responding to the COVID-19 Pandemic: Constitutional Implications – A Guide to Relevant Constitutional Legal Principles Implicated When Responding to a Public Health Crisis."
On October 6, I presented at the Environmental and Energy Technology Council of Maine forum on the subject, "Hurdles, Delays, and Ways Forward for Review of Clean Energy Projects." The following week, on the 15th, I presented to a multi-disciplinary course organized by the University of Maine Graduate and Professional Center on the subject of, "What Can American Governments Lawfully Do in Response to the COVID-19 Pandemic?." On Friday night the 23rd, I presented on the first panel of an international conference, "Climate Litigation as a Governance Tool," hosted on the campus of Duke Kunshan University in China (where I served as a Fulbright Specialist a year ago).
Three days later, I organized and moderated a forum with Josh Rosen '22 for Maine Law's Energy and Environmental Law Society, on the subject of  "Environmental & Climate Justice: Anti-Racist Movements and Principles for Practice." Later that week on October 30th, I presented at the American Floating Offshore Wind Summit on issues involved in obtaining environmental regulatory approvals for offshore wind projects in the U.S. And then, on Halloween, I presented to the Annual Meeting of the American College of Environmental Lawyer as part of a 3-attorney panel on "The Other AI: American Infrastructure Projects from Pipe and Transmission Lines to Offshore Wind."
Fortunately, my carbon footprint in undertaking all of these presentations was minimal, as I did them "virtually" from home. I intend to take a break from conferences, until my next scheduled event in January, for the Camden Conference, on energy and climate change issues in the Arctic as a lead-up to the full Conference in February. And, I was just named to the Maine Supreme Court's Civil Rules Advisory Committee.