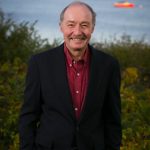 By Professor of Practice Jeff Thaler
On September 23, I kicked off the 2020-2021 Maine Law Faculty Lunch Talk Series with a presentation entitled "When the Next Surge Comes: What Can Governors Do to Prevent More COVID-19 Deaths and Cases This Fall and Winter?." This presentation is based on my forthcoming law review article to be published by the Mitchell Hamline Law Journal of Public Policy and Practice.
During my presentation, I reviewed the rapid evolution this year of health, medical, and legal responses to the ongoing pandemic, as well as outlined the range of legal issues and court holdings that have arisen. I also explained how a federal, state, or local government's conventional ability to restrict constitutional rights changes in the midst of a declared public health emergency, and trends heading into the fall and winter.
You can watch my full presentation below: