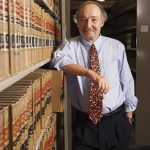 By Professor Jeff Thaler
With apologies to Sigourney Weaver and Mel Gibson, when their movie[1] came out in 1982 did anyone envision how an invisible virus like COVID-19 could shut the world down almost 40 years later? Nor, 30 years later, did more than a few people know what "Zoom" meant other than from Roadrunner cartoons.
The day after the 2020 Presidential Election, my article "'Zooming' Through the Fall" was posted; in it, I discussed some of the courses I was teaching and conference presentations I was undertaking from the same location: my house. Even then, though, I did not envision how much working remotely would enable me to do, with zero dollars spent in travel, in the first five months of 2021. Taking advantage of the powerful opportunities presented by Zoom, month by month, I:
January:
Co-created and taught a new Maine Law course, Changing Laws.
Co-taught "Law School for Legislators" to about 100 legislators and legislative staff, presenting on Statutory Interpretation and on Administrative Procedures.
Presented twice as part of the Camden Conference, to community members in York and in the Falmouth-Yarmouth area, "Comparing the Impacts of Climate Change Upon Maine and Greenland."
Published "The Next Surges Are Here: What Can American Governments Lawfully Do In Response to the Ongoing COVID-19 Pandemic?", 42 Mitchell Hamline Law Journal of Public Policy and Practice 165 (2021).
March to May:
Created and began teaching a new course for Duke Kunshan University (Duke University's campus in China) to undergraduates in China, South Africa, and North Carolina entitled "Introduction to the U.S. Legal System."
March:
April:
Created two training sessions for an international organization, Waterkeepers Alliance. The first, for their North Atlantic Waterkeepers, was "An Overview of Offshore Wind Technology and Regulatory Issues"; the second, a week later, presented to their Latin American Waterkeepers was "Environmental and Climate Justice, and the Public Trust Doctrine."
Presented to the Edward T. Gignoux Inn of Court (select Maine attorneys, judges, and law students) on "What Can American Governments and Law Do in Response to the COVID-19 Pandemic?"
Presented as part of a Maine Energy and Electric Utility Regulation continuing legal education program, along with Heather Kenyon '22, on "Maine and Federal Endangered Species Act Issues"
Published in a national engineering journal, Power Engineers' Current, "What is Happening with NEPA Regulations?"
May:
Presented, as part of a program for the American College of Environmental Lawyers, "What Will the Offshore Wind Industry Look Like Under the Biden Administration?"
Presented, as part of the Sixth Annual Sustainability Conference of American Legal Educators, "Climate Change Litigation Trends and Opportunities: China, the US, and the World."
Published, along with 2 Shanghai environmental attorneys, "The Legal Case Against Japan's Fukushima Wastewater Decision" in The Diplomat.
While my 2021 has revolved around Zoom – including ongoing legal work for the University of Maine's offshore wind energy programs, mini-reunions with my former Williams College students and former Duke Kunshan students – there were some non-virtual activities. In late May, I attended the in-person graduation diploma awards for Maine Law's Class of 2021. Since January I have had over 2500 telephone calls, text messages and emails – no Zoom – with people in Georgia as I worked as holder of a power of attorney for my aunt, who passed away May 29. I am also drafting to file this month an amicus brief to the Maine Supreme Judicial Court about a Maine statute that I co-wrote in 1995, 14 M.R.S.A. §556, Maine's Anti-SLAPP law (Strategic Litigation Against Public Participation). And, last but not least, my wife and I continued to monitor the adventures of Raymond Reddington in The Blacklist and of The Professor in Money Heist – a professor whose classroom involves stealing billions of Euros and tons of gold from Spain.
Maybe I should diversify my teaching subjects this fall?
---
[1] The Year of Living Dangerously