By Professor Peter Pitegoff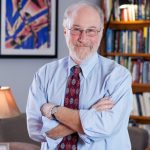 At Maine Law, the summer of 2019 marks a high point for the study of Community Economic Development Law. Three developments converged to advance this ongoing project.
First, the Association of American Law Schools (AALS), the primary institutional membership organization for legal education, established a provisional Section on Community Economic Development. This reflects the enormous growth of curricular, clinical, and research initiatives in this field at law schools. It also follows three successive years of programming at AALS annual meetings, beginning with a discussion group that I helped organize at the San Francisco meeting in January 2017. In a program entitled Community Development Law & Economic Justice – Why Law Matters, we assembled some three dozen legal scholars, from across the nation and across generations, to discuss the evolution of community economic development and its relationship with law. It is gratifying now to see a new generation taking leadership in advancing the field that has been a touchstone of my career for forty years.
Second, Maine Law launched its new Economic Justice Fellowship Program to support education in community economic development law and to continue building capacity for clinical practice and advocacy in affordable housing and community revitalization. The focus is to assist community-based institutions and their constituents, to engage law students in the study and practice of community economic development law, and to nurture a new cadre of leaders in the field. With grant support from the Maine Justice Foundation, we have awarded fellowships thus far to Nina Ciffolillo (2L) and Adam Cohen (1L). With her fellowship, Nina worked full time this summer at Avesta Housing, Maine's leading nonprofit developer and policy advocate for affordable housing. Adam joins us after two years as a policy and program associate at the Stewards of Affordable Housing for the Future (SAHF) in Washington, D.C. (SAHF, of note, was co-founded in 2003 by William Kelly, who served in the early 1970s as law clerk for U.S. Circuit Judge Frank Coffin in Maine.) In the coming year, we intend to offer a third Economic Justice Fellowship to a selected applicant to Maine Law who plans to matriculate in Fall 2020.
Finally, I am pleased to report the publication by Cambridge University Press this summer of my essay, Community Development Finance and Economic Justice. In this piece, I reflect on the history of community economic development, community development financial institutions, and their connections to law and legal scholarship. The essay places Maine's Brunswick-based Coastal Enterprises, Inc. (where I served on the board of directors for ten years) in the wider context and history of community development finance and of the dramatic expansion in tax credit financing for affordable housing and community revitalization. This research and service continues to inform my teaching, both in my skills seminar in economic development transactions and in doctrinal courses like Business Associations, Nonprofit Organizations, Employee Benefits Law, and Professional Responsibility. The essay is published as a chapter in a book entitled Legal Scholarship for the Urban Core – From the Ground Up (Rashmi Dyal-Chand and Peter Enrich, eds.).