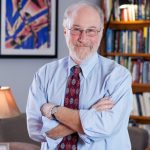 By Professor Peter Pitegoff
With grant support from the Maine Justice Foundation, Maine Law has launched a new Economic Justice Fellowship Program to support legal training in community economic development law and to continue building capacity for clinical practice and advocacy in affordable housing and community revitalization. The two primary components of the program are: (1) fellowships in community economic development law, and (2) research and planning for curricular expansion and a potential clinical initiative at Maine Law in affordable housing and community economic development. The focus is to assist community development institutions and their constituents, to engage law students in the study and practice of community economic development law, and to nurture a new generation of leaders in the field.
We have named two Maine Law students as the inaugural Economic Justice Fellows, Nina Ciffolillo and Adam Cohen. Nina, a rising 2L at Maine Law, is working full time this summer at Avesta Housing, Maine's leading nonprofit developer and policy advocate for affordable housing. Adam, who will enroll in Maine Law as a 1L this fall, has been a policy and program associate at the Stewards of Affordable Housing for the Future in Washington, D.C. for the past two years. In the coming year, we intend to offer a comparable fellowship to a selected applicant to Maine Law who plans to matriculate in Fall 2020.
The Fellows will work closely with faculty experts in curricular and career planning, research, and placement in field opportunities such as full-time summer internships with community development institutions and part-time placements for credit during the academic year. The Fellows also will participate in exploring comparable programs at other law schools and assessing the potential for further initiatives at Maine Law. This mix of activities will expand the Fellows' exposure to community development practice in Maine and around the nation.