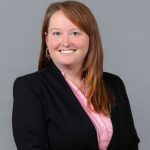 Amanda Bridges, a third year student at the University of Maine School of Law, has accepted a position as an associate attorney with Bemis & Rossignol in Presque Isle, Maine. She spent two summers as a Rural Law Fellow at this firm while in law school.
In 2017, Maine Law launched the Rural Lawyer Project in response to the access to justice crisis in Maine. The program pairs students with rural lawyers who serve as mentors, and provides students with direct exposure to rural practice to inspire them to consider pursuing careers in these communities. It is the result of a collaboration between the Law School, the Maine Justice Foundation, the Maine State Bar Association, and the Maine Board of Overseers of the Bar. The three year pilot funding for these fellowships was provided by the Maine Justice Foundation. The program will continue this summer with a grant from the Betterment Fund.
Amanda is from the Rockland area, and spent time in Denver, Colorado and Long Island, New York before relocating back to Maine. Prior to law school, she spent five years working at the West Bath District Court as an assistant clerk and then an associate clerk, primarily in Family Law and Protective Custody Cases.
"The fellowship experience was invaluable," said Amanda. "Not only for the experience it provided me with, but also for the opportunity it provided to assist our citizens in underrepresented communities."
Rural Law Fellows are selected each year through a competitive application process. Fellows work under the guidance of practitioners to learn the breadth and potential of serving Maine's rural communities through exposure to all facets of legal practice.
Amanda's practice will include an array of matters typically accepted by general practice firms like Bemis & Rossignol, with a focus on court appointments in criminal defense and protective custody cases.