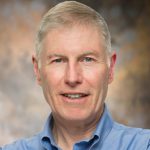 Professor Peter Guffin, director of the Information Privacy Program at Maine Law, will speak at the Fundamentals of Privacy Law seminar on December 14, 2020. His session is titled "Information Security Program Basics," and he will be joined by panelists Christopher J. Bender and Virginia Lee '05.
During his session, Professor Guffin will provide general practitioners, litigators, corporate counsel, and transactional attorneys with a fundamental understanding about how privacy connects and works with other practice areas, as well as the basics of the security of personal information and regulatory enforcement. Attendees will learn where to start when a client asks that privacy law question, recognize when privacy impacts a transaction, understand what "PII" is, and know how to address privacy in their daily practice.
At Maine Law, Guffin teaches courses and practicums in information privacy law and cybersecurity. He also teaches an information governance course for regulatory compliance and risk management professionals as part of the Law School's Compliance Certificate Program.
Guffin also heads Pierce Atwood's Privacy & Data Security practice, where he counsels clients on compliance with state, federal, and international laws and regulations relating to privacy and data protection, including cross-border data transfers. He also provides advice and assistance to clients with respect to data security incidents, ranging from internal investigations, incident response, breach notification obligations, communications with regulators, risk mitigation and litigation strategies.
The Fundamentals of Privacy Law seminar is sponsored by the Practising Law Institute (PLI). Please visit the PLI website for additional seminar information and to register