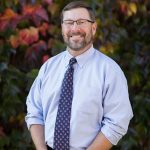 Joseph Cassidy, president of Southern Maine Community College (SMCC), will be the keynote speaker at this year's commencement for the University of Maine School of Law on May 25.
Prior to joining SMCC, President Cassidy served as president of Washington County Community College in Calais for five years. He also simultaneously served as interim president of Eastern Maine Community College for the 2015-16 academic year.
"Maine Law is fortunate to have President Cassidy as this year's commencement speaker," said Danielle Conway, dean and professor at Maine Law.  "Throughout his distinguished career, he has combined his legal experience with his academic service and leadership to advance the legal profession and post-secondary education in Maine. We know that the intersections of his professional experiences and his personal and professional connections to rural Maine will inspire our newest group of alumni."
Cassidy received his J.D. from the University of Maine School of Law in 2000. He has an M.S. in Education and a B.A. in History from the University of Southern Maine. He began his career at WCCC as a faculty member and once served as president of the WCCC Faculty Association and as mayor of the city of Calais.
The graduation ceremony will be held at 10:00 am on Saturday, May 25, at Merrill Auditorium in Portland. Maine Law will award seventy-six J.D. degrees and twelve LL.M. degrees. Family and friends are welcome to attend the ceremony, and tickets are not required.
"Graduation is a time to celebrate the remarkable accomplishments of our students," continued Dean Conway. "We applaud these extraordinary students who have accepted justice as their calling. They have undergone a rigorous program of legal instruction and are ready to put their skills to great use for the benefit of our community."
The 2019 L. Kinvin Wroth Award will be presented to the Hon. Lance E. Walker during the graduation ceremony.