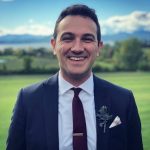 The student body at the University of Maine School of Law recently elected new officers and class representatives for the Student Bar Association (SBA).
The mission of the SBA is to foster a community at Maine Law through educational, professional, and social events. The association is the voice of the student body, and serves as an umbrella organization for the nearly 20 other student organizations at the Law School. The SBA manages funding received from student activity fees; oversees the incorporation of new student groups; and helps current organizations to maintain administration and to follow appropriate by-laws.
"I am honored to represent Maine Law and its inspiring student body," said new SBA President Timothy Lueders-Dumont. "I look forward to continuing to work with my fellow students and our incredible faculty and staff as we work together to support our community."
The many student organizations offer speakers, panels, lunches, and a number of other small events throughout the year, while the SBA itself hosts many of the traditional annual events for students, including the Winter Holiday Party, Barrister's Ball, and the Law School Follies.
Congratulations to the new SBA!
SBA President: Timothy Lueders-Dumont
Vice President: Paige Eggleston
Treasurer: Nathan Moore
Secretary: Erika Allen
Communications Director: Kayleigh Cleary
1L Representatives: 
Maxwell Teschke
Richard Qualey
Mariah Park
Grayson Szczepaniak
Dale Rappaneau
2L Representatives:
Jacqueline Polvere
Shianne Bowlin
Michael Flaherty
Sam Martin
Jamie Blair
3L Representatives:
Melanie Dorn
Hilary Forsley
Alex Mihalov
Phil Burns
Chase Hamilton