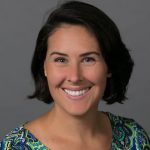 Jennifer Crane, the director of advancement at the University of Maine School of Law, has been awarded the Certified Fund Raising Executive (CFRE) designation. She joins over 6,700 professionals around the world who hold the CFRE designation.
Individuals granted the CFRE credential have met a series of standards set by CFRE International which include tenure in the profession, education, and demonstrated fundraising achievement. They have also passed a rigorous written examination testing the knowledge, skills, and abilities required of a fundraising executive, and have agreed to uphold Accountability Standards and the Donor Bill of Rights.
Jennifer Crane has worked in the fundraising field for 9 years. She began her development career at Bowdoin College, with roles in annual giving, gift planning, and reunion giving. In 2017, she joined the University of Maine School of Law as director of advancement.  At Maine Law, Jennifer leads a small shop of two covering development operations and alumni engagement, working with a solicitable base of just over 3,700 alumni, with the majority of these alumni living and working in Maine.
"We are so fortunate to have Jennifer as part of our Maine Law family," said Interim Dean Dmitry Bam. "The CFRE designation reflects Jennifer's tremendous expertise in the field and her talents as a fundraiser. It has been a pleasure to work with Jennifer on fundraising and cultivating relationships with our donors and alums."
CFRE recipients are awarded certification for a three-year period. To maintain certification status, certificants must demonstrate on-going fundraising employment and fundraising results and continue with their professional education.
About CFRE
Since 1981, CFRE has set standards for fundraising professionals. As the only globally recognized fundraising certification, CFRE indicates professionalism, confidence, and ethics. It is how today's fundraiser shows accountability, service, and commitment to making a difference for good. The CFRE certification program is accredited by the American National Standards Institute and is the only accredited certification for fundraising professionals.