The International Association of Privacy Professionals (IAPP) recently announced the launch of the annual Westin Scholar Awards program. With the growing need for well-qualified privacy and data protection professionals, the annual Westin Scholar Awards program will support students who consider a career in privacy and data protection.
The University of Maine School of Law is one of about twenty law schools located around the world initially selected by the IAPP to participate in the program.  Also selected to participate are a number of graduate computer science and business schools.
The Westin Scholar Awards honor the late Dr. Alan Westin, a foundational voice in the field of privacy and data protection. Throughout his life, Dr. Westin researched and wrote about privacy, data protection, digital identity and the future of how societies will deal with issues at the intersection of law and technology. He is the namesake for the IAPP Westin Research Center and Fellowship Program, which was founded in 2013 and serves as a pathway for future leaders in the community.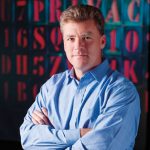 "The privacy profession is fast growing and constantly evolving. We've created these awards as a way to encourage students to enter this growing field and explore potential career opportunities," said J. Trevor Hughes '95, IAPP president and CEO. "It is our hope that these awards will help students identify and enroll in privacy and data protection courses and programs. There is no shortage of privacy or data protection career opportunities in management, law, technology and engineering."
As a participating institution, Maine Law will select one student annually who will be awarded a Westin Scholar Award. Each student recipient will receive the following:
A $1,000 cash award
A copy of the book "Privacy and Freedom," by Dr. Alan Westin
2 years of membership with the IAPP
3 complimentary exams for IAPP certifications (CIPP, CIPM, CIPT)
Unlimited access to online training for recipient's selected IAPP certification exams
Maine Law has long been an academic leader in offering a curriculum focused on Information Privacy Law. The Law School's program recognizes the multidisciplinary nature of privacy law and also the importance of providing real world, practical work experience opportunities for our students. Since 2016, Maine Law has seen a significant expansion of its privacy curriculum, including growth in its experiential opportunities for students, and an increase in the number of job opportunities available for students interested in pursuing careers in this emerging field of information privacy law.
"Maine Law's selection to participate in the Westin Scholars Award program is a wonderful tribute to the interdisciplinary mission, quality and strength of its information privacy law program," said Peter Guffin, professor of practice and director of Maine Law's Information Privacy Law Program.  "Maine Law, which offers a Certificate in Information Privacy Law (one of only a handful of law schools to do so) and a unique Summer Information Privacy Institute (now in its twelfth year), continues to be an education innovator in information privacy law."
Maine Law plans to announce their Westin Scholar Award recipient in May 2021.