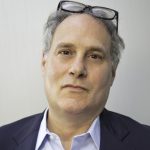 The University of Maine School of Law will host the 28th annual Judge Frank M. Coffin Lecture on Law and Public Service virtually on October 29, 2020. The distinguished lecturer for this year's event is Lee Gelernt, deputy director of the ACLU Immigrants' Rights Project. He will discuss "Challenging Immigration Policies: An Inside View From an ACLU Lawyer at the Center of the Fight."
This Lecture Series, hosted annually by Maine Law, honors the late Judge Frank M. Coffin, longtime federal judge on the U.S. Court of Appeals for the First Circuit, former member of Congress, and renowned leader and mentor in public service.
Mr. Gelernt has been a lawyer at the ACLU's national office in New York since 1992, and currently holds the positions of deputy director of the Immigrants' Rights Project and director of the Project's Access to the Courts Program. He is widely recognized as one of the country's leading public interest lawyers and has argued dozens of groundbreaking civil rights cases during his career, including two significant cases in the U.S. Supreme Court. He has also testified as an expert before both houses of Congress. In addition to his work at the ACLU, he is an adjunct professor at Columbia Law School, and for several years was a visiting professor at Yale Law School. He is also a former law clerk to Judge Coffin (1988-89).
Sameer Ahmed, a clinical instructor at the Harvard Immigration and Refugee Clinical Program at Harvard Law School, will introduce Mr. Gelernt.
The 2020 Coffin Lecture begins at 7:00 pm and will be presented virtually via Zoom. This event is free and open to the public, but registration is required by October 27th at this link: www.mainelawcommunity.org/2020-coffin-lecture. The week of the lecture, registrants will receive a personalized Zoom link which provides access to the event.
For additional information on the Lecture, please contact the Office of Advancement at the University of Maine School of Law at lawalum@maine.edu.