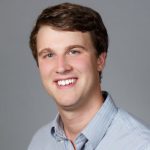 Joseph Shagoury, a second year student at the University of Maine School of Law, has been awarded the 2020 Shur-Frinsko Award for Municipal Law and Local Government.
The Award goes annually to a Maine Law student, who has demonstrated academic excellence and accomplishment in the areas of municipal law, land use, or local governance, with a commitment to and capacity for further contribution to the field. It was established in 2005 with core support from the law firm of Bernstein, Shur, Sawyer and Nelson, the family of the late Barnett I. Shur, and the Nelson & Small corporate family. The award honors Barnett I. Shur and F. Paul Frinsko, in recognition of their achievements in the practice of law and their leadership in municipal law.
A native of Hallowell, Maine, Joseph received his B.A. in government and economics from Colby College. After graduating, he worked in the Augusta office of U.S. Senator Angus King, and also served as a state government consultant at a local firm in Portland. He began law school in the fall of 2018.
At Maine Law, Joseph is a member of the Moot Court Board. He recently competed in the Judge John R. Brown Admiralty Moot Court Competition, which was held virtually in early April.  He is interested in staying in Maine to practice law after he graduates from the Law School.