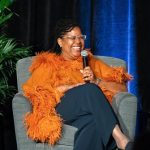 Spurwink Services hosted its 32nd annual Humanitarian Awards on Friday, October 12 at Brick South Events Center, Thompson's Point, in Portland. Two individuals and one organization were honored that evening, including Maine Law's Dean Danielle Conway.
This year's theme was "A Night in Casablanca," and the evening included dinner, awards, and a live and silent auction. Spurwink's Outpatient and Community Services were highlighted at the event, which includes case management, outpatient therapy, public school counseling, foster care placement, therapeutic care for refugee and immigrant children and families, and more.
The Spurwink Humanitarian Award's Ceremony honored these champions:
Danielle M. Conway: Humanitarian Award
Danielle M. Conway is Dean and Professor of Law at the University of Maine School of Law. She is a leading expert in public procurement law, entrepreneurship, and intellectual property law. Since joining the Law School on July 1, 2015, she has delivered numerous speeches, predominantly focusing on two themes: first, the role of a public law school in the larger community and, second, the imperative to recapture the narrative of the lawyer and the legal profession.
Sun Life Financial: Corporate Care Award
For over 120 years, Sun Life has been providing employee benefits in the U.S. to help people protect what they love. Sun Life's community involvement focuses on programs and initiatives that empower people to live healthier lives.
Dick Tryon: Going the Distance Award
In 1976, Dick and his wife, Nora Tryon, co-founded Community Support Services, Inc., later to become Community Partners, Inc. (CPI), a non-profit with the goal to develop community living and support services for people with Intellectual or Developmental Disabilities (IDD).
"This year's honorees, Dean Danielle Conway, Dick Tryon, and Sun Life Financial, have been extraordinary in their efforts to support the most vulnerable members of our community, and we are proud to share their stories," said Alistair Raymond, Chair of Spurwink's Board of Directors. "Their unique contributions differ from Spurwink's, but together we share the same mission of going the distance to help others in need."