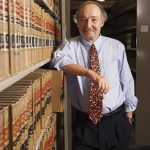 By Visiting Associate Professor Jeff Thaler*
The University of Maine School of Law has been asked to be part of an innovative national research project examining the knowledge and skills that new lawyers need to serve their clients and employers with "minimum competency." Professor Deirdre Smith, who received the initial invitation to participate, was unable to undertake the project due to her busy schedule, so she asked me to take it on, which I agreed to do.
The study will focus on Maine and 11 other states: Colorado, North Carolina, Ohio, California, Nevada, New York, Illinois, Florida, Texas, Georgia, and Minnesota. It will be directed by the Institute for the Advancement of the American Legal System (IAALS), the ABA Commission on the Future of Legal Education, and the AccessLex Institute. The goal is to develop essential data about the work that new lawyers perform, which will inform state supreme courts, bar examiners, and legal educators.
The study is path-breaking in at least two ways. First, it will use focus groups – rather than surveys – to obtain nuanced information about the work that new lawyers do. No previous study has generated the detailed insights that will be gathered. Second, the collaborative research team with 14 focus group facilitators (including myself) will gather nationwide data about demographically diverse lawyers working in a wide range of practice settings.
Most of the focus groups will be with 4-6 junior lawyers (1-3 years in practice) although a few will be with supervisors of those lawyers. I will be attending a 2-day workshop in Denver, Colorado on June 6-7, along with the rest of the research team, to learn techniques to facilitate the focus groups. The other group facilitators include several law school deans, professors, and related professionals.
I have also undertaken a 4-hour national training on human subjects research law and regulations, and will receive a detailed toolkit after the workshop. Additionally, I have selected Nicholas Janzen '21 to be the Maine Focus Group Observer, to assist in the organization and implementation of the Maine focus groups to take place between summer 2019 and February 2020. Upon my return from Denver, I will arrange focus group locations, recruit focus group participants, and facilitate the group sessions.
The main report will be published in December 2020, with some possible articles before and after. Six months after the main report (targeted for Dec. 2020), facilitators and observers will have access to the data and can publish independent articles if we so choose.
It is exciting for Maine Law and Maine lawyers to be able to participate in an important national study that should help bring more informed input to the development of relevant and useful law school courses, as well as to better-designed bar admission requirements and examinations. We are looking forward to meeting with, gathering and then submitting the views of, recently-admitted Maine lawyers along with the data from the other 11 states, and sharing (and blogging about!) the ultimate results with Maine's bench, bar, and legal educators.
---
*Visiting Associate Professor Jeff Thaler is a long-time Maine trial and environmental attorney, who chairs Maine Law's Placement Committee. He has created and taught a number of new courses in the past eight years at Maine Law.