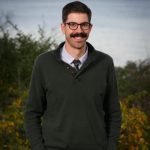 By Associate Professor Anthony Moffa
Everyone from Prince Charles to our own Charles, has been drawing the connection between the current COVID-19 crisis and the looming climate crisis. There are sadly many lessons to be learned from how government (under)prepared for a pandemic and how government has responded to it.  And, important to both COVID-19 and climate policy, the "government" we speak of is increasingly state, rather than federal.
One consequence of the increasing reliance on state government to solve scientifically complex, potentially intractable problems is that the resource constraints of our state legislatures are laid bare. In a forthcoming article in the University of Richmond Law Review, I discuss at length the private resources devoted to advancing model state legislation that entrenches inaction and devalues science. In particular, the efforts of the American Legislative Exchange Council (ALEC) have for years skewed the careful balance of federalism's laboratories (i.e., states)  – pushing identical bills in statehouses across the country.  A now-famous Brookings Institution study utilized text analysis to demonstrate just how pervasive ALEC's influence has been. My forthcoming article describes three types of resources in the climate policy space that could assist state legislatures and help to balance the scales – policy maps, policy menus, and policy pathways.
Just last month, Columbia's Sabin Center for Climate Change Law launched the most ambitious effort to provide state legislatures with the necessary tools for the development and passage of innovative, scientifically justified, comprehensive climate policy. This online resource leverages thousands of pro bono hours from attorneys and professors across the country to turn Michael Gerrard John Dernbach's book Legal Pathways to Deep Decarbonization in the United States into a robust, continuously updated policy menu.  The menu includes examples of already enacted state laws, as well as model legislation for state legislators to draw upon when drafting new bills. A similar resource for municipal governments looking to enact climate-friendly ordinances – the Sustainable Development Code – also launched last year.
Resources like these are vitally important if we, as a society, are going to continue looking away from the national government and towards our states and cities for leadership on complex issues of public and environmental health.  The limited resources of subnational governments—financial, technical, scientific, etc.—have constrained and defined lawmaking since long before the current crises. For almost as long, non-governmental or quasi-governmental organizations have tried to bridge that resource gap by drafting and promoting uniform and model state legislation.  Private firms and researchers have begun the work of documenting the varied responses to COVID-19.  This crisis, coupled with political and geographical idiosyncrasies, produced a policy experiment of unseen proportions and stakes. With careful analysis and publicly available presentation of results, we can hope for a tested set of policy options for our governments to adopt in preparation for the next crisis.
Download the full article on SSRN and watch for its publication in the University of Richmond Law Review this fall.