By Clinic Professor Chris Northrop
It's official! As of November 1, 2015 the indiscriminate shackling of children in Maine Juvenile Court is no longer allowed.
Students at Maine Law's Juvenile Justice Clinic waged the fight to get this Judicial Rule for the last few years. There were a number of hard fought victories and frustrating setbacks along the way. Although our student attorneys occasionally raised this issue on individual cases for a number of years, we set out with a comprehensive agenda to change the culture around shackling children in June 2013.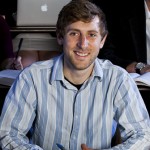 The impetus to take on this fight, not just for our clients but for all children in Maine's Juvenile Justice system, started in the classroom. Michael O'Brien (2014) was taking Juvenile Law and Legislative Law during the spring semester of his second year. He needed to come up with a paper topic for Professor Heiden, and wanted to make sure that his work had utility outside the walls of the law school. We kicked around a number of different topics before Michael decided to write about the indiscriminate shackling of children. His paper detailed the emotional damage done to children forced to sit through court hearings in handcuffs and leg irons . It also examined the national anti-shackling movement, detailing groundbreaking victories in New Mexico and Florida.
Michael, the Cushman B. Anthony summer fellow, took his project from the classroom to the clinic in June of 2013. We decided to attack Maine's practice of keeping youth in shackles during their court appearances on two fronts. We started to litigate the issue in every case, and shared information with district attorneys and the judiciary in the hopes of eventually gaining a rule against indiscriminate use of physical restraints. Michael did most of the work that laid the foundation for our anti-shackling campaign. He collaborated with the National Juvenile Defender Center  to put together a brief to support the clinic's position.The Clinic litigated and won the first motion we filed in June 2013. This ruling allowed us to have our 12 year-old client's handcuffs and leg irons removed. When our client's mother sat next to him at counsel table that afternoon, his hands and arms were free, and he was able to hug his mother for the first time in over a month.
Over the next year, we continued to litigate and win motions to remove our clients' physical restraints. By June 2014, most of the children in most of Maine's courts were unfettered. Unfortunately, there were still some youth forced to go through their court hearings in shackles. Taylor Sampson (2015), Betsy Boardman (2015) and Danylle Carson (2015) decided to fight the battle on another front, and spearheaded a legislative effort to make this indiscriminate shackling against the law. With the help of a broad statewide coalition and a few national partners (NJDC and M + R Strategic Services), our clinic students worked on drafting legislation and putting together a comprehensive media and lobbying campaign . . . enter Skye.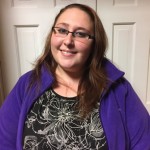 Skye Gosslin, a former clinic client, became the poster child for our campaign. I met Skye in a local district court when she was a twelve-year old seventh grader. She appeared in court that day because her mother was unable to get her to court on the correct date. When she arrived to clear up her failure to appear, the court officer searched her, shackled her wrists and ankles, and then placed her under armed guard in the courtroom. Skye was terrified and in tears when I sat down with her to find out what had happened that morning.
Five years later, we were in contact with Skye to see if she was interested in helping other children avoid the embarrassment, fear and trauma she suffered. Skye embraced the opportunity. With some guidance from Betsy Boardman, Skye wrote an editorial piece , testified in front of the Criminal Justice and Public Safety Legislative Committee and wound up getting national attention over the course of our media campaign.
This spring the legislation passed in the House and the Senate by wide margins, but was vetoed by Governor LePage. The darkest day in our campaign was not when we got that news, but hit a few days later, when we learned that we did not get the expected votes in the House and failed to override the veto. Fortunately, the judiciary kept close tabs on the progress of the legislation. They responded to its ultimate defeat by creating Maine Rules of Unified Criminal Procedure, Rule 43A. This rule closely tracks the language in our proposed legislation, and provides youth in Maine Juvenile Courts protection against the indiscriminate use of physical restraints. Skye is very happy with the results, as are we.