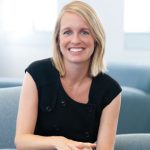 By Professor Anna Welch
After five years of zealous advocacy by more than a dozen students in the Refugee and Human Rights Clinic (RHRC), the Immigration Court in Boston granted RHRC client, D.M., asylum yesterday following a compelling and emotionally-touching hearing. He was represented by student attorneys Eliza Mette '17 and Felix Hagenimana '18.
D.M. is a citizen of the Democratic Republic of Congo (DRC) who worked for years advocating on behalf of rape survivors. As a result of his work, he faced an escalating scheme of intimidation and violence, which culminated in a death threat that forced him into hiding and left him no choice but to flee to the United States in search of refuge.
Over the last several years, student attorneys from the RHRC worked tirelessly documenting their client's experiences, developing his testimony, and crafting the strongest case theories in support of his asylum petition. At the close of the hearing, Immigration Judge O'Sullivan commented on how organized and focused Eliza and Felix were in guiding the case forward. She noted that they performed better than many seasoned attorneys who appear before her.
D.M.'s student attorneys have included: Kasia Park '13, Jennifer Gillies '13, Marta Hurgin '13, George Dyer '13, Katherine Power '14, Laura Shaw '15, Carly Traub '15, Brandon Farmer '15, Hannah Anderson '16, Lauren Kousaie '16, Daniel Keenan '16, Eliza Mette '17, and Felix Hagenimana '18.
We at Maine Law could not be more proud of all of their hard work and dedication. They saved a life yesterday. D.M. can now life freely in the U.S. without fear of being deported to a country where he faced almost certain death for his humanitarian work.