By Charles H. Norchi, Benjamin Thompson Professor of Law and Chair, AALS Section on Admiralty and Maritime Law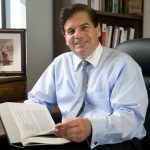 It is summer in Maine and thoughts turn to the sea. The sea sets our law school apart. Maine Law strides two international borders – Canada and the Atlantic Ocean. Only one other law school can make that claim – Dalhousie in Halifax, Canada. Maine is blessed with an extensive coast and because of geography the University of Maine School of Law has a maritime tradition unique among American law schools. The reach of Maine Law follows maritime routes from Portland to the Arctic to Atlantic Europe and to China. We have linkages (partnerships) with programs in Greenland, Iceland, Ireland, France, Norway, and China.
The Benjamin Thompson Professorship at Maine Law is named for Maine's first Proctor in Admiralty. The first Benjamin Thompson began his practice in Portland's Old Port in the fall of 1881 at a time when Portland was an international maritime center. He became known throughout the world for his expertise in both the law and lore of the sea. In 1919, Nathan Thompson assumed his father's practice, and for over 40 years was involved in every major admiralty case in Maine waters. The younger Benjamin Thompson entered practice with his father in 1948 and rose to senior partner in the firm of Thompson, McNaboe and Ashley located at 85 Exchange Street in the same building where his grandfather and father had practiced. Thompson descendants remain loyal to the Law School, notably grandaughter Grace Raftery, class of 2015.
Our maritime teaching program includes Oceans Law and Policy, Admiralty Law, Maritime Law, Environmental Law and a range of other subjects related to the health and futures of our waters from the Maine coast across the Atlantic. The program benefits from the generosity of Maine Maritime Bar practitioners at Pierce Atwood, Preti Flaherty, Thompson Bowie, and Verrill Dana which has launched an Arctic Practice Group. Admiralty experts Chuck Remmel and Tim Steigelman have been popular adjunct professors.
The Law School's Center for Oceans & Coastal Law works on projects that reach from our intertidal lands through state, federal, and international waters across the North Atlantic, the Arctic to the Mediterranean, and Asian seas. Among the subjects that our students have recently researched and written about are aquaculture, Atlantic trade, the Gulf of Maine, beach access, fisheries, maritime security, naval warfare, piracy, ship recycling and law of the sea issues from the Arctic to the South China Sea. Important scholars continue to publish in our student edited Ocean and Coastal Law Journal. This year we welcomed oceans speakers including Professor Emeritus Orlando Delogu who discussed his book Maine's Beaches are Public Property, Casco Baykeeper and Maine Law alumnus Ivy Frignoca, and Maritime Historian Lincoln Paine who discussed the sea and civilization.
The Center partners with the Climate Change Institute and the World Oceans Observatory to operate the Arctic Futures Institute. This fall the Center will team up with the International Association of Maritime and Port Executives to launch a CLE course on the law and business of ports.
And maritime Maine is experiencing a renaissance. Consider:
And maritime Maine culture and history are on display at the Maine Maritime Museum and the Portland Museum of Art, notably the Winslow Homer Collection, and also many independent art galleries.
Summer begins with World Oceans Day, so named by the United Nations inspired by the 1992 Earth Summit in Rio de Janeiro. This is fitting as our planet is 71% water, and much of the world's population, including Maine's, is coastal. My oceans summer is off to a good start. In June, I traveled to the United States War College (USNWC) in Newport whose Stockton Center researches and teaches all matters oceanic and collaborates with the Law School's Center for Oceans and Coastal Law. My presentation led to a discussion of the freedom of navigation, emanating from 17th century European jurisprudence, which in contemporary times has permitted our navy to launch and sustain intercontinental wars on seven occasions: in Europe, East Asia, Afghanistan, and Iraq.
Following Newport, I was in New York for United Nations Oceans Week. Event venues were the United Nations Division on the Oceans and the Law of the Sea and the Explorers Club. Much of the week was devoted to ocean threats from climate change and plastics. Within the UN there is a move to conclude a treaty that would conserve marine resources beyond national jurisdiction. There is also a growing movement for a treaty that would curtail ocean plastics, as well as a project that uses technology to harvest ocean plastics. My panel contrasted these threats in the Arctic (ocean surrounded by land) and the Antarctic (land surrounded by ocean).
After New York, my oceans activities continued in Portland where we hosted a delegation from the Arctic University of Norway at Tromsø (UiT). With our Tromsø law school counterparts we outlined Arctic Ocean study and research opportunities for students and faculty.
My next stop is the Arctic Ocean and a Greenland expedition co-leading a cohort of University of Maine System Faculty with Climate Change Institute Director Paul Mayewski. (Stay tuned for my next blog.) Meanwhile get to a beach, a dockside bar, a pier or a boat and raise a glass (not plastic), toast our oceans and that fair winds and following seas will continue to favor Maine Law.