By Professor Charles Norchi*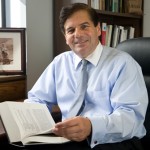 In January as COVID-19 swept from Asia to Europe, my scientist colleagues warned of a great disruptor. Our institution deploys Arctic field missions, research, and teaching across a number of disciplines that appeared to be at risk. Paul Mayewski, director of the University of Maine Climate Change Institute, and I had been finalizing a June expedition to Greenland. Schedules were made, projects prepared, logistics were in place, plane tickets purchased, and money paid. Would we have to pull the plug on the expedition?
And, our new Arctic Law Fellows program had just deployed two students to Tromsø, Norway. I immediately thought about our Maine Law students studying at the Arctic University of Norway (UiT.) Could they remain in Tromsø and proceed to Svalbard as planned? Or would they have to be repatriated? UiT closed and Tromsø locked down hence Maine Law's Arctic Law Fellows, Sander Goldthwait and Eli Murphy (pictured below), returned home.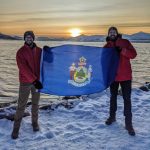 Thankfully, they have emerged healthy from quarantine, are continuing law studies online, and will complete their Arctic research projects in Maine.
Meanwhile, Paul and I decided to unwind the expedition. It was to be our second season researching climate change impacts of Greenland UNESCO World Heritage while assisting the Nuuk government. Our previous mission deployed sixteen experts in agriculture, anthropology, art, archaeology, climatology, communications, ecology, fisheries science, geographic information systems (GIS), geology, glaciology, law, limnology, oceanography and public policy. This summer we were to bring students. They, and our Greenland support partners, were especially disappointed.
In lieu of the Greenland trip, our summer Arctic Law Fellows, Lexis Anderson and Justin Cary, will work on expedition law this summer with the Maine-based Arctic Futures Institute. Our exchange programs with the Arctic University of Norway and the University of Greenland will continue. We believe that in this age of climate change there are challenges and opportunities facing Greenlanders and Mainers, and that both can benefit from ongoing multi- and inter-disciplinary collaborations. We will return to Greenland in 2021. Meanwhile, we continue Arctic teaching, training, and research. For now, the sole Maine-Arctic activity on ice, is travel.
---
*Charles H. Norchi is Benjamin Thompson Professor of Law at the University of Maine School of Law and Co-Chair of the Arctic Futures Institute.