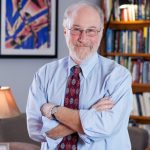 By Professor Peter Pitegoff
Amidst the coronavirus pandemic, I feel fortunate. Screen-weary, yes, but healthy and employed and securely housed. Sadly – tragically – this is just not the reality for so many people in Maine and beyond. As the persistent pandemic amplifies longstanding inequities, I focus in this blog on one issue in particular – the importance of safe and affordable housing.
In these times, as expressed concisely by the Maine Affordable Housing Coalition (MAHC), "…home matters, perhaps more than ever." In September 2020, MAHC published a compelling Report[1] on tenant evictions in Maine and rental housing instability resulting from the COVID-19 crisis. It documents the scope of recent evictions and the traumatic impact on low-income families. It anticipates a growing wave of evictions ahead in the absence of adequate state and federal support. It describes the negative impacts of large-scale evictions on renters, landlords, communities, and public health.[2]
Notably, the MAHC Report signals the launch of an ongoing eviction tracking database project. This data collection in Maine is accompanied by extensive monthly interviews with at-risk renter households to gain further insight into the challenges they face. Analysis in the recent Report and in continued monitoring can inform government leaders and other institutions in crafting initiatives to manage the housing crisis. This work aims to "…allow policymakers and the public to put forthcoming eviction activity into greater context and make it easier to formulate data-driven policy responses."
Adam Cohen, a second-year law student, played an active role in the launch of the eviction database. As an Economic Justice Fellow at Maine Law, he completed a 2020 summer internship at Avesta Housing, a leading nonprofit developer of affordable housing in southern Maine and New Hampshire. He worked closely with Greg Payne, a development officer at Avesta and the director of MAHC, in collecting and analyzing eviction data. Adam mined information on over 900 eviction filings, the reasons for these actions, and their outcomes. In order to collect this data, he traveled to 13 different District Courts in the six counties where three fourths of Maine renters live, and he dug into the court files. (Unlike some other court systems with greater technological capacity, Maine Courts at this point have no accessible online database of eviction records.) Adam has continued to work with MAHC and Avesta on this project during the fall 2020 semester. This research provides a baseline for assessing the eviction challenges in Maine, while providing ongoing data and analysis to inform critical public policy.
We launched the Economic Justice Fellowship Program at Maine Law two years ago, to support education in community economic development law and to continue building capacity for clinical practice and advocacy in affordable housing and community revitalization. Our first Economic Justice Fellow, Nina Ciffolillo, is now in her third year at Maine Law. Like Adam, she too completed an internship at Avesta Housing, hers in summer 2019. Earlier this calendar year, Nina joined Avesta's Greg Payne and me in a two-episode podcast on affordable housing and community economic development – part of "The Greater Good" podcast series sponsored by the University of Maine Graduate & Professional Center and moderated by Maine Law's Carrie Wilshusen.[3] Our third Economic Justice Fellow, Emmalee Tracy, is currently navigating her first year of law school at Maine Law and is looking forward to a summer 2021 internship with a selected community development organization.
From where I sit – on the Maine Law faculty and on the Avesta Housing board of directors – I see today's affordable housing challenges in real time. Avesta currently includes 98 properties with over 3,000 residents in 2,700 apartments and two assisted-living facilities. The waiting list of requests for affordable housing opportunities is lengthy. This nonprofit affordable housing organization has worked diligently to manage its properties responsibly and protect residents from contracting the coronavirus; to maintain housing for those in economic distress; to provide rental and home ownership counseling; to advocate for innovative public policies in housing; to demonstrate and promote racial equity within its organization and properties; and, to keep a pipeline of development projects viable despite unstable financial markets.[4]
The need for greater access to affordable housing was acute before the pandemic, and is all the more challenging now. Maine Law values its work with Avesta Housing, a kindred institution devoted to justice and doing well to confront today's enormous challenges for affordable housing.
---
[1] EVICTIONS IN MAINE: An Analysis of Eviction Filings and Outcomes as the COVID-19 Pandemic Threatens to Increase Rental Housing Instability, Maine Affordable Housing Coalition, Sept. 2020. [PDF]
[2] For further background, see:
[3] Building Community: The Promise of Affordable Housing, Greater Good Podcast (Jan. 2020) and Building Community: Addressing the Housing Mismatch, Greater Good Podcast (Feb. 2020)
[4] For further information about Avesta Housing, visit their website.