By Visiting Associate Professor Jeff Thaler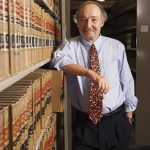 The Comprehensive Environmental Response, Compensation, and Liability Act (CERCLA), also known as Superfund, is a federal law that has since 1980 resulted in many hundreds of lawsuits and billions of dollars spent cleaning up particularly hazardous waste disposal sites around the country. All 50 states have or had Superfund sites, almost 1,800 in all. There are over 1,300 sites still listed as a national priority to address, with Maine currently having 13 sites listed.
Given that history and the many billions of dollars still to be spent at ongoing and future Superfund sites, it is fascinating how relatively little attention has been devoted to the recently-argued U.S. Supreme Court case of Atlantic Richfield Company (ARCO) v. Christian. Is it because the question of when are state lawsuits preempted – barred – by a federal law an insufficiently dramatic attention-grabbing legal issue? Or because relatively few amicus briefs were filed on appeal? Or are people just plain tired of talking about CERCLA legal issues?
To the last question, certainly environmental lawyers and engineers are not so fatigued! Indeed, the Christian case raises some interesting issues which, if not preempted by a remand for lack of a final judgment, could impact not only clean-up cases and efforts all over the U.S. as well as who is "responsible," but potentially also impact federal-state relations and conflicts in other areas of law.
In 1980 – the year that CERCLA was enacted  – the Anaconda Smelter in Montana ceased its copper refining operations. However, because Anaconda's smokestacks had emitted arsenic and lead across five nearby towns, 20,000 acres and thousands of homes, in 1983 the area became a Superfund site. While ARCO (the then-owner of the smelter) was identified as the lead Potentially Responsible Party (PRP), and has since spent $450 million in carrying out the EPA's remediation plan, downwind landowners wanted more cleanup work done on their lands than what EPA had ordered. They thus sued ARCO in state court 11 years ago.
This eventually led to the December 29, 2017 Montana Supreme Court decision that allowed plaintiffs to bring state law claims for more clean-up at federally designated sites of ongoing remediation. The U.S. Supreme Court granted certiorari in June 2019. Two of the granted issues are particularly interesting and potentially far-reaching:
Is a private (downwind) landowner at a Superfund site a PRP, who must first get EPA's approval for remedial action even if that landowner has not been ordered to pay for a cleanup – in other words, who really is "responsible" under CERCLA and made to pay, not just say "sorry?" And,
Does CERCLA explicitly or implicitly preempt state common law claims for restoration, if such claims seek cleanup remedies at odds with (i.e. exceeding) EPA-ordered remedies?
Public Citizen and a group of 15 states (led by Virginia) filed amicus briefs in support of the Montana landowners and the Montana court decision; the Solicitor General and the Chamber of Commerce (with a group of other trade groups) supported ARCO. Arguments of statutory interpretation and federal-state sovereignty were front and center in the briefs.
When the case was argued at the Supreme Court last month, some of the Justices seemed concerned that CERCLA's text allows for states to have a meaningful role in the remediation of hazardous sites. Other Justices seemed sympathetic to EPA and ARCO's concerns that plaintiffs' desired remediation might worsen groundwater quality by releasing toxins in the soil. And, the U.S. Solicitor General's representative spent much of his time on the defensive as to the assertion that the plaintiff landowners themselves should be treated as PRPs.
Ultimately the Justices appeared to be trying to devise a way for the states to still have an active role in CERCLA remediations without allowing landowners to "interfere" with EPA's cleanup plan. Coincidentally, because Vermont and Maine were part of the 15-state amicus team, environmental attorneys and faculty Pat Parenteau (Vermont) and myself (Maine) were both interviewed after the oral argument by the same news service reporter.
Fortunately, we did not contradict each other, and thus did not have to say "sorry" to each other when the article came out.