By Visiting Associate Professor Jeff Thaler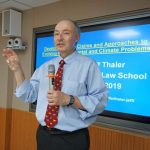 Twelve time zones and over 7,000 miles separate the University of Maine School of Law from Kunshan, China. However, during my recent work as a Fulbright Specialist in China, I was amazed by the many similarities that I found both in daily life and with the legal issues on which I teach and lawyer. I am inspired by the many potential economic and educational opportunities that exist for Mainers if we make the effort to learn more about and make more connections with China and its people.
When I first applied to the Fulbright program in 2017, I had no idea what I was getting into. I thought that if selected, I would appear on a roster that universities around the world would examine like a menu, and then one school would pick me to do my Fulbright work there. Wrong. Once selected, it turned out I had to find a host university interested in working with me. Then, we had to put together a project proposal to compete at the country level with other proposals and, if we passed that hurdle, then on to Fulbright in Washington for another competitive round. After months of that process, our proposal had to be approved by the U.S. State Department.
Thus, I spent many months researching dozens of law programs around the world; reaching out to deans and faculty at two dozen schools in a dozen countries; and navigating their decision making processes. Eventually, in June 2018 two proposals had gotten to the Washington stage – in Denmark and China (not the Maine towns). I was given 24 hours to pick one to submit for the final two eliminations stages. I do not speak or read Chinese, nor have I ever been to China. I knew it would be easier to go to Denmark, in part because that country is a world leader in renewable energy and on climate issues. However, I thought—when else am I going to get to China? Also, China is the fastest growing renewable energy market in the world, a major player in climate-Arctic-environmental issues, and the largest economy in the world.
I rolled the dice, and chose China. It took another six months before the final approval of my project.  With the eruption of the U.S.-China trade war, I worried whether I would get an approved visa. That finally came through in June 2019, and I departed two months later.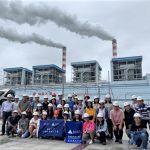 I was based at Duke Kunshan University (DKU), a brand new school located about 45 miles west of Shanghai. North Carolina's Duke University is building DKU. Currently there are five small graduate programs, and the first two years of undergraduates. The goal is 2,000 undergraduate students, thus a major building campaign still is underway. Most of the students are Chinese, and all of the classes are taught in English. I was based in DKU's International Master of Environmental Policy Program. I prepared reading materials for students, as well as taught some of the classes, on environmental, energy and climate policy, and litigation issues in China, the U.S., and globally. I also co-led an all-day field trip of 45 students, faculty, and staff to visit both a coastal wind farm and a coal-fired power plant.
Additional projects and presentations included:
I presented a school-wide talk on a wide range of legal issues with which I have been involved with in my career, ranging from civil and criminal litigation to environmental, energy, and climate matters.
I also prepared slides for and presented at the first Climate Change Litigation Conference, which involved leading practitioners and scholars from around China.
I held numerous 1:1 and small group mentoring/career advising meeting with students.
I had meetings with faculty about possible future research collaborations.
I also met with the faculty pre-law advisor about ways to help students navigate the American law school admissions processes.
Outside of DKU, I met with faculty from three other Universities in China about possible future collaborations, and gave a one hour presentation at Hebei Normal University outside of Beijing.
Despite all of the research I had done in Maine before departing, I completely underestimated how much Chinese and Maine professionals have in common in terms of our concerns and approaches to our rapidly-changing impacts upon the environment, as well as our daily activities. Overall, China has some very similar (and at times better) laws on environmental and renewable energy issues based in part on U.S. precedent. Climate change and sustainable development are talked about there, and are matters of national governmental policy and concern. Coal is still big there—but so too in the U.S. Currently China is much more aggressive in decarbonizing its economy in terms of increased renewable production goals than we (currently) are. Certainly there are other aspects of China policy and life that are very different from Maine, such as access to the internet and freedom to protest.

In October, I was asked by Fulbright to identify what I believed were the most important outcomes of my project. From the perspective of DKU, students and faculty learned a great deal from me about the status of a wide range of environmental, energy, and climate issues in the U.S. and elsewhere. They now have an established connection to an American law professor to help facilitate possible future interactions. A number of connections were also made with attorneys and scholars outside of DKU, and my goal is to build on those connections from Maine. On a personal level, I learned a huge amount about China that I am already working to incorporate into my work and actions in Maine. I have given presentations  on my experiences to the State Bar, and to faculty, staff, and students at the Law School. I also plan  to teach a new 1-credit course about the issues I taught in China.
It is my hope that Maine Law can continue to be a place that interested Chinese and international students want to attend, whether as LL.M., J.S.D., J.D. students. Truly the high points of my China experience were the students I got to know. I remain in touch with some of the faculty and staff I worked with who were all very friendly, interesting, hard-working, and caring people—much like our own faculty, staff, and students. Linkages and bridges between people are important in so many ways; I hope each of us will take advantage of such opportunities that we find in Maine as well as abroad.
---
Want to learn more about Professor Thaler's Fulbright experience in China? Watch this video recording of a presentation that he gave at the University of Maine School of Law.