By Professor Lois Lupica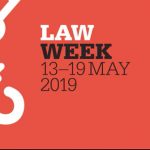 It's Law week here in Victoria! Although I could argue every week has been law week for me since I've been in Australia. The official Law Week is a celebration of public engagement in the legal institutions of the State. It offers people the opportunity to speak with lawyers, judges and law enforcement officers ("Cuppa with a Cop"), discover the history of the law, and attend public lectures and information sessions on a variety of law-related subjects. The public is invited to programs such as "Meet Coop the Court Support Dog," where they can learn more about how 3-year old Labrador Coop, empowers witnesses as she responds to their emotional state, and an "urban campfire" at a Neighborhood Justice Center – a community center with a courtroom (and day care). All told, there are 159 events over 7 days, all over Victoria.
Last night, I attended a program on "Cross-discipline Collaboration in Family Law Disputes," where psychologists, attorneys, and judges discussed the research on and use of child inclusive mediation. This path breaking work has been empirically tested, and child inclusive systems have shown strikingly positive outcomes.
Today I will be attending, "Digital Civics and Legal Capability in the Community: Expanding Access to Justice" where the brilliant Dr. Catrina Denvir will talk about how technology can help community members participate in the design and delivery of legal services and promote access to justice. On Friday, I will be participating in a Legal Tech and Design Masterclass, which is a hands-on workshop about human-centered design and technology. This session is being run by Monash University's Australian Centre for Justice Innovation.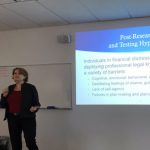 I also gave a talk yesterday at Monash University, attended by faculty, students, and members of the broader community, about access to justice and innovative problem solving. These talks I've been giving across the country and the exchanges following them have sparked great conversations, new ideas, projects, and plans for future collaborations. What justice innovations should look like –the process and the ultimate products and reforms is a subject I've had the privilege to delve deeply into during my time in Australia. As per the Fulbright mission, I have a lot of thoughts and ideas to share upon my return.
Again, if you want to see some of our travels in Australia, check out Instagram (recent posts of lois.r.lupica: penguins, koalas and kangaroos!!).