By Visiting Professor Jeffrey Thaler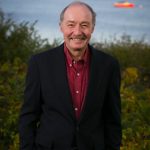 On August 20, 2018 the Air Quality Index (AQI) in Spokane, Washington was 306 – meaning it was not only deemed "hazardous" to residents, but also was more than double the AQIs that day of Beijing, China (81) and Delhi, India (173). The Spokane hazards are due to some of the worst wildfires on record, such as in California.
The next day, the U.S. Environmental Protection Agency (EPA) proposed the 236-page Affordable Clean Energy Act (ACE) rule, along with a 289-page Regulatory Impact Analysis (RIA). Also on August 21, President Trump called American immigration laws "a disgrace", and both he and other officials vowed to continue reversing policies and procedures that had been implemented during the administration of former President Obama.
What do these all have in common? They arise out of or involve an area of law rarely seen or discussed in movies, television shows, or social media posts – Administrative Law. For example, do you recall the last time you saw a show or film focusing on topics like standing, final agency action, the Administrative Procedure Act, or ripeness?
Neither do I.[1]
But in the real world, in real news – especially the last few years – huge societal policy issues such as health care, climate change, and immigration are being contested in a wide range of regulatory agencies and their proceedings. Even last week's wildfires, air hazards, and ACE grow out of significant actions involving administrative law: the body of law dealing with local, state or federal government agencies.
For example, ACE would repeal the 2015 Clean Power Plan (CPP) with new, lower emission standards for coal-fired power plants' greenhouse gas emissions linked to the warming atmosphere and oceans, and greater risk of wildfires.[2] The CPP was a rule promulgated by the EPA under former President Obama to implement a provision of the Clean Air Act; ACE is a proposed rule by EPA under President Trump implementing the same statutory provision, but in a very different way. This is just one of dozens of examples since January 2017 of agencies seeking to repeal and replace "legislative rules" that never went through the legislative body of Congress.
The development of rules that have binding legal effect, pursuant to the APA, is by a notice-and-comment process. With ACE, over 270,000 public comments were filed with EPA since its December 2017 Advance Notice of Proposed Rulemaking. For the next 60 days, new public comments are to be filed on ACE, before a public hearing is then held and a final ACE rule issued. A court challenge by certain states and other interests against the final rule is guaranteed.
Indeed, all over the U.S., the vast majority of attorneys who litigate are largely doing so not before judges or juries (as on TV), but before regulatory bodies or non-judicial officers and that have special standards for issues like standing and finality. Indeed, people are ten times more likely to be tried by an agency than by a court – i.e. in a recent year there were only 95,000 federal court adjudicatory proceedings vs. over 939,000 federal agency proceedings completed.[3]  The 2013 National Council of Bar Examiners Study of Lawyers 1-3 Years in Practice found that 21% say they practice administrative law – the second highest practice area for respondents.
The ACE rulemaking fight will not just be an environmental one, but also a public health one assessed by courts applying administrative law standards relating to how much deference to give to the agency's reasoning. For example, the Trump EPA predicts that ACE would lead to between 470 and 1,400 premature deaths, annually, by 2030 because of increased rates of microscopic airborne particulates known as PM 2.5, which are dangerous because of their link to heart and lung disease as well as their ability to trigger chronic problems like asthma and bronchitis. Spokane's hazardous air is due to high levels of PM 2.5. The CPP would have avoided 1,500 to 3,000 premature deaths annually by 2030. Similarly, replacing Obama's plan with Trump's plan will lead to 48,000 to 120,000 more cases of worsened asthma a year by 2030, with a comparable increase in missed school days for affected children. [4]
It is because the Obama Administration did much of its "law making" in the last few years not by going to Congress – instead, sidestepping it with agency rulemaking – that the Trump Administration is also able to avoid Congress through its own agency actions. The dozens of court challenges already under way and the many more expected to come against the current Administration's efforts to undo many environmental, health, and immigration rules and policies will be decided based on such questions as: do the challenges have legal standing to even bring their claims in court? Are the issues ripe (ready) for review? Have the agencies undertaken final, reviewable actions or not?
And if the challengers get over those hurdles, they then confront the test of how much deference will courts give to the agencies' reasons for their actions? The Supreme Court decision cited more than any other, Chevron U.S.A., Inc. v. Natural Resources Defense Council, Inc., 467 U.S. 837 (1984), was a landmark case creating the legal test that if a statute is ambiguous, the court will accept a reasonable interpretation of the statute by an administrative agency, so long as Congress has not spoken directly to the precise issue at question. Rarely is there a federal statute containing no ambiguity.[5]
In sum, if you want to know what government policies will be on your favorite issues the next months and years, do not watch your favorite shows or films; instead, watch for public notices of rulemaking and similar administrative law proceedings.
---
[1] The vast majority of law shows and films involve criminal investigations and trials. Nor will you find Judge Judy or the People's Court confronting administrative law matters.
[2] https://thinkprogress.org/epa-admits-trump-would-sacrifice-thousands-of-american-lives-to-save-a-few-coal-plants-b426dda2e76f/ and https://www.epa.gov/sites/production/files/2018-08/documents/utilities_ria_proposed_ace_2018-08.pdf
[3] For the three-month period of May to July, the entire contiguous United States (CONUS) "ranked hottest on record," as the National Weather Service in Los Angeles, California tweeted out Wednesday, adding that "records go back to 1895." California in particular saw its hottest July and hottest month on record with an average temperature of 79.7 degrees. Neither the heat, nor the wildfires, nor the health hazards, should be a surprise. See, e.g., my 2012 Environmental Law Review article Fiddling as the World Floods and Burns.
[4] Additionally, unlike the typical television or movie courtroom dramas, in recent decades there has been the virtual abandonment of the institution of trial.  By the year 2002, only 1.8% of federal civil filings terminated in trials of any sort, and only 1.2% in jury trials; at the state court level, where most civil litigation occurs, jury trials were only 0.6% of all dispositions.
[5] The issue with ACE will be whether steps to reduce carbon emissions are limited to physical plant modifications, or can they include reduced operation of high polluting plants or substituting cleaner energy sources for coal.