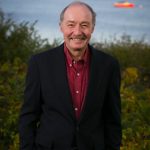 By Visiting Associate Professor Jeff Thaler
This is a tale of how a law professor can – while sitting in an office in Portland, Maine – become part of two tremendously important cases about to be argued before the U.S. Supreme Court and the First Circuit Court of Appeals.
In 1937, George and Ira Gershwin wrote a song with the now-famous lines "You like potato and I like potahto, you like tomato and I like tomahto"…Like those vegetables, one word most lawyers and judges pronounce several different ways is amicus – is it ah-MEE-kus, or AH-me-kous, or AM-uh-kuss, or even Justice Breyer's novel a-MY-cus? Which is correct?
Fortunately, we do not have to resolve that question in this post! What you do need to know is that since the 17th century, the phrase amicus curiae, or friend of the court, has described someone who, as a "disinterested bystander," offers, to a court important information or suggestions on a pending case and issues.
One such case, being argued on March 27th at the U. S. Supreme Court, is Kisor v. Wilkie. Its result could make major changes in how courts review any interpretation by an agency of its own regulations. Another such case, to be argued this spring at the First Circuit Court of Appeals in Boston, is Blanco-Davila v. Barr. In this case, the court will review the denial of asylum based on then-Attorney General Sessions's reversal of policies that had allowed victims of domestic violence to qualify for asylum.
In each case, I and some other law professors from around the country who teach, litigate, and write on administrative law and statutory interpretation issues, co-wrote and filed amicus briefs to offer views distinct from those of the parties. I jumped at the chance to participate, in part because in my Administrative Law course this semester I have been discussing with students current cases and trends on these and related issues.
Given recent changes in the Supreme Court's membership, combined with some Justices' grumblings in previous decisions, the acceptance of Kisor for oral argument raised concerns that the Court could be poised to undo decades of precedent and reliance on the standards used to review agency actions interpreting ambiguous words (or even multi-million dollar commas) in a statute or regulation. Indeed, the issues involve bedrock constitutional questions of the separation of powers in the 21st century: have agencies been delegated too much power by Congress, and should the Court reverse that trend?
Although the most-cited Supreme Court case in history, Chevron U.S.A., Inc. v. Natural Resources Defense Council (1984), was not directly involved in James Kisor's underlying Veterans proceeding, his attorneys argued to the Supreme Court that his case would be "an appropriate place to begin" a "reconsideration" of "existing doctrines of agency discretion," including Chevron. The Kisor case actually involves a different doctrine – Seminole Rock/Auer. Seminole Rock, in 1945, and 1997's Auer, established that when an agency interprets or issues guidance about the meaning of one of its own regulations, courts should defer to such agency action, unless the interpretation is "plainly erroneous" or "inconsistent with the regulation."
By contrast, Chevron (1984) involved a different situation – when an authorized agency interprets ambiguous language in a statute (not regulation). Here, the Court originally created its famous 2-step deference process: Step One, is there ambiguity in the statute, and if so then Step Two asks whether or not the Agency's interpretation is a reasonable or permissible one. The Court must affirm the agency's interpretation even if the Court itself is not persuaded that it is the best interpretation – a reasonable one suffices. Since 1984, many thousands of pages have been written about Chevron by judges, scholars and students, even suggesting additional steps precedent to Step One. Law students have even created a song-and-dance about it. But in recent years, a growing number of judges – particularly those appointed by Republican Presidents – have questioned whether agencies have been given too much power to interpret.
Thus, in response to Kisor's filings, I and 13 other law professors filed a brief urging the Supreme Court to not address Chevron in that case. We explained how Chevron squarely rests upon the constitutional authority of Congress – which only has 535 members – to delegate to the millions of federal agency staff the day-to-day work of applying enacted laws to the many millions (if not more) decisions being made every week across our country. The Seminole Rock/Auer doctrine, by contrast, involves agency actions not having the force of law and thus not pursuant to Congressional delegation.
Interestingly, we were one of the only filed amicus briefs, out of 2 dozen, that did not support Kisor's arguments to overrule Auer. But the real surprise came weeks later when, on February 28, President Trump's Solicitor General filed a brief rejecting Kisor's arguments, and instead suggested ways to clarify but not overrule Auer. He also agreed with our point that Chevron is a very different doctrine that should and need not be touched in this case.
Our Kisor amicus brief also drew the attention of the President of the American College of Environmental Lawyers (ACOEL), the group made up of the top 200 environmental attorneys in the U.S. (I co-founded ACOEL and served as its 3rd President.) Thus, on March 26 – the day before oral argument – a University of Washington Law professor and I will do a national seminar for ACOEL members on the issues involved in Kisor and possible impacts upon the practice of environmental law.
The Blanco-Davila amicus brief that 10 other professors and I filed again addresses deference issues, only this time focused on the Immigration Board and Attorney General's interpretations of the governing asylum statute. Like many other cases I have been teaching this semester, this one involves – at heart – an attempt by the Trump Administration to undo, as swiftly as possible, policy initiatives of the Obama Administration. Many of these efforts have been rejected by the courts as having ignored the required procedural steps needed to change previously promulgated regulations.
Here, we argued that the attempted shift in how to evaluate domestic violence in asylum petition proceedings did not warrant judicial deference under Chevron (or under a 3rd standard known as Skidmore); and even if Chevron deference were to apply, the categorical rejection of domestic violence as an asylum consideration fails either Step One or Two of Chevron. The Blanco-Davila case has drawn national attention, so it will be interesting to see both what the First Circuit decides, and whether its decision will end up at the Supreme Court later this year.
In sum, while the daily deluge of new administrative and regulatory court rulings and law articles has made course design very challenging. (Even the 2018 revised edition of the book I am using is already a bit out of date!) I love being able to bring live issues like these into the classroom. It is especially nice to be able to demonstrate to them how even from a small city in the corner of the U.S., someone can actively participate in ongoing, major legal, and public policy issues and maybe, just maybe, have an impact as a "friend."