Faculty Research Blog
The South China Sea Arbitration
By Professor Charles Norchi
In July, a tribunal of the Permanent Court of Arbitration sitting in The Hague unleashed a judicial tsunami that could sweep away many Chinese claims to the South China Sea. This summer scholars, students and nation-state elites are studying PCA Case Nº 2013-19, In the Matter of the South China Sea Arbitration…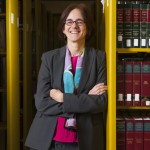 Insurance 101 through a look at the Farmers Insurance flying water heater ad
By Associate Dean Jennifer Wriggins

If you watched the Wimbledon Tennis Championships recently, you saw a hilarious ad for Farmers Insurance. The ad was based on an actual incident, in which a hot water heater somehow launched itself out of a house, high into the air, and landed on a car. The punchline was that yes, Farmers Insurance covered the damage from this event…
Alumni Spotlight
Student Spotlight
Videos
TedXDirigo
v
ideos of Professor Sarah Schindler and Chris Poulos '16.
View More
Upcoming Events
Aug

11,

2016

Aug

22,

2016

Aug

23,

2016

Aug

24,

2016
Maine Law in the News
Maine Law and Verrill Dana recently hosted a luncheon to honor the legacy of long-time Verrill Dana attorney Roger Putnam and his commitment to ensuring access to justice for all Mainers. The luncheon brought representatives from Maine Law and Verrill Dana together with past and present Roger A. Putnam Fellows.
Amanda Hemmerich, a 2016 graduate of the University of Maine School of Law, recently published "From Fire Comes Life: Why Courts Assessing Forest Fire Damages Should Recognize Ecological Benefits" in the Environmental Law Reporter.
Quotes in the Media