Faculty Research Blog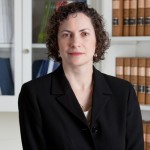 The Failed Experiment of Sex Offender Civil Commitment
By Professor Deirdre Smith

Today, more than 4000 people are being held in indefinite detention in the United States. They are not serving criminal sentences. Nor are they being hospitalized for treatment. They are unlikely to be released at any time soon, and many of them will grow old and die in detention. They are not terrorists…
The End of Indiscriminate shackling of children in Maine Juvenile Court
By Clinical Professor Chris Northrop
It's official! As of November 1, 2015 the indiscriminate shackling of children in Maine Juvenile Court is no longer allowed. Students at Maine Law's Juvenile Justice Clinic waged the fight to get this Judicial Rule for the last few years. There were a number of hard fought victories and frustrating setbacks along the way…
Featured Alumni
Student Highlights
Videos
TedXDirigo
v
ideos of Professor Sarah Schindler and Chris Poulos '16.
View More
Upcoming Events
Feb

15,

2016

Feb

16,

2016

Feb

18,

2016

Feb

22,

2016

Feb

23,

2016
Maine Law in the News
Princeton University has selected University of Maine School of Law Professor Sarah Schindler, one of the nation's rising stars in the areas of land use law and urban policy, as a Fellow at the Program in Law and Public Affairs (LAPA) for the 2016-17 academic year.
Maine attorneys, judges, and other professionals gathered over January 20 – 21, 2016 to participate in the Fourth Biennial Access to Justice Symposium, sponsored by the Justice Access Group (JAG). The theme for this symposium was "Serving those Who Served: Meeting the Legal Needs of Maine's Veterans, Servicemembers and their Families."

The University of Maine School of Law has been awarded a three-year, $300,000 grant to host a summer immersion program for college undergraduates who are interested in learning about the law and potential legal careers.

Quotes in the Media