Faculty Research Blog
By Jeff Thaler, Visiting Professor

I won't discuss rock bands and campaign songs (Stephen Colbert and Jack Black have done so already); rather, there has been surprisingly little law or litigation developed since the 18th century concerning the scope and limits of Executive Orders, and that is why this post may be of assistance to practitioners facing a coming deluge of POTUS Executive Orders, Proclamations, or "Guidances."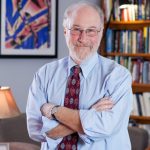 By Peter Pitegoff, Professor & Former Dean

It was a reunion, of sorts, but also a cross-generational introduction. In January 2017, law professors and practitioners assembled in San Francisco to explore community development law and economic justice, reflecting on the past several decades in the legal academy and in practice. The occasion was a formal "Discussion Group" program at the annual meeting of the Association of American Law Schools.
New Program
Profiles
Videos
Upcoming Events
Apr 6, 2017

Maine's Opioid Crisis: New Legislative Approaches


This event is co-sponsored by Maine Law and the…

Apr 6, 2017

:

4:00 pm

-

7:00 pm

MAPIL Auction/Alumni Cocktail Reception


Join the University of Maine School of Law for…

Apr 6, 2017

:

5:00 pm

-

8:00 pm

Apr 8, 2017

Preparing for Rural Practice


A MAINE LAW WORKSHOP: An innovative half-day program to…

Apr 8, 2017

:

8:30 am

-

12:30 pm

May 20, 2017

2017 Commencement Ceremony
May 20, 2017: 10:00 am - 12:00 pm
Maine Law in the News
Reggie Parson, a first year student at the University of Maine School of Law, was recently appointed to the City of Portland's Police Citizens Review Subcommittee. This committee reviews the process of police investigations of citizen complaints to ensure it is thorough, objective, fair, and timely.
The Hon. Michael A. Fagone, a 1997 graduate of the University of Maine School of Law, will receive the 2017 L. Kinvin Wroth Award at the Law School's commencement ceremony on May 20.
Quotes in the Media