By Professor Lois Lupica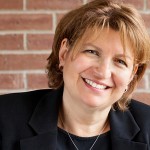 I've just completed a four-month stint as Resident Scholar at the American Bankruptcy Institute (ABI). ABI is the largest multi-disciplinary, nonpartisan organization dedicated to research and education on matters related to insolvency. I've been involved in ABI in a variety of capacities for over 15 years, as a member, a regular speaker at conferences, as Resident Scholar in 2007, as a member of the Advisory Board of the ABI Law Review, author of myriad articles published in the ABI Law Review and ABI Journal, Co-Reporter for the ABI National Bankruptcy Ethics Task Force, recipient of grant funding for a number of my studies and most recently, as a member of the ABI Board of Directors and the Grant-making Committee. ABI is always at the center of new developments in the insolvency field, and through my engagement, I've met many professional colleagues and friends, and have been afforded many incredibly rewarding professional opportunities.
I was fortunate that my second term as Resident Scholar took place during a very active time in the insolvency world. The Chapter 11 Commission completed two years of work, issuing a Final Report in December. I participated in a number of Commission working meetings, attended Commission hearings, and drafted the sections of the Report addressing Jurisdiction and Authority of Bankruptcy Courts, and Individual Chapter 11 cases. I also attended a presentation of the Commission Report before Congressional Staffers on Capitol Hill. Four general themes emerged from the 400-page Commission Report proposals: (i) a reduction of barriers to entry to the Chapter 11 system, (ii) the facilitation of greater certainty and more timely resolution of disputed matters that arise in a Chapter 11 cases, (iii) the enhancement of exit strategies for debtors, and (iv) the creation of an effective alternative restructuring system for small and medium-sized enterprises. Maine Law Alum Bob Keach, pictured right, served as Co-Chair of the Commission. I expect that many of the Commission proposals will receive serious legislative consideration.
I also edited a compilation of articles and essays on the most important consumer bankruptcy-related issues of the year. One of the most fundamental consumer bankruptcy issues is the growth of student loan debt. More than 40 million Americans hold student debt, and of these debt holders, about seven million have defaulted on their loans. Key issues include whether repeal of Section 523(a)(8) is the right "fix" for this crisis, as well as how the judiciary is working within the current Bankruptcy Code to respond to student loan-burdened debtors.
Another topic that has garnered much interest and attention (as well as an ABI empirical study) is the adequacy of Chapter 11 as a remedy for individual debtors. In 2014, twenty-percent of all Chapter 11 cases were filed by individuals. In many instances, attorneys have reported that navigating an individual client through the Chapter 11 process is analogous to trying on an ill-fitting suit. A number of articles in the book highlight the key issues that are raised in these Chapter 11 cases and offer cogent analysis and insight. The book was published in December and is available on Amazon and in the ABI Bookstore.
The fall typically brings numerous conferences and meetings for bankruptcy professionals, and this fall was no exception. I have been working as a member of the Education Committee for the 2014 National Conference of Bankruptcy Judges (NCBJ) Annual Meeting for the past year. Held in Chicago this past October, this meeting is typically the largest bankruptcy conference of the year, with over 2000 attendees. Together with U.S. Bankruptcy Judge Frank Baily (D. Mass.), I organized two educational programs, one showcasing four "rising star" young bankruptcy litigators, and the other, an ethics program loosely modeled on NPR's "Wait, Wait, Don't Tell Me" program. With Judge Jim Haines as MC, the panelists, in a humorous way, discussed challenging ethical issues that arise in bankruptcy cases. I also served as Moderator of a panel entitled, "Who is Driving the Chapter 13 Train," where a judge, Chapter 13 Trustee and debtor's counsel discussed the respective and relative roles of the professionals in a Chapter 13 case. As they do every year, the NCBJ Academic Outreach Committee hosted a reception for bankruptcy academic attendees. This reception (and the whole conference) was particularly fun this year, affording me the opportunity to see old friends and meet some of the newer bankruptcy law professors from law schools around the country.
The goal of a sabbatical leave is to allow an academic to step back from the typical routine, work on new projects, discover new ideas, produce new work, and generally reinvigorate. So far, so good.