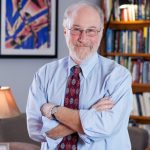 By Peter Pitegoff, Professor and Former Dean
It was a reunion, of sorts, but also a cross-generational introduction. In January 2017, law professors and practitioners assembled in San Francisco to explore community development law and economic justice, reflecting on the past several decades in the legal academy and in practice. The occasion was a formal "Discussion Group" program at the annual meeting of the Association of American Law Schools.
Early in my academic career, I was one of the founders in 1988 of the Affordable Housing and Community Development Law Program and transactional law clinic at the State University of New York at Buffalo. Among just a handful of transactional law school clinics at that time, it served as a model for comparable development clinics at other law schools in the years that followed. Fast forward to 2017, and numerous law schools today house transactional clinics engaged in affordable housing, small business, and/or community economic development. Our Discussion Group in San Francisco brought together law professors from across the nation and across generations. From a personal perspective, after serving as Dean of the University of Maine School of Law for ten years, it was an opportunity for me to re-engage with longtime colleagues and to meet kindred scholars and activists, many of them meeting one another for the first time.
In collaboration with co-organizers Professor Rashmi Dyal-Chand of Northeastern University School of Law and Professor Scott Cummings of UCLA School of Law, we invited a dozen core discussants, each of whom contributed an abstract in advance describing a community development initiative or strategy and its fit within the evolution of the field. Core participants in the discussion, in addition to the three organizers as moderators, included: Lisa Alexander (Texas A&M University School of Law), Alicia Alvarez (University of Michigan Law School), Michelle Wilde Anderson (Stanford Law School), Alina Ball (University of California, Hastings College of the Law), Susan Bennett (American University Washington College of Law), Patience Crowder (University of Denver Sturm School of Law), Michael Diamond (Georgetown University Law Center), Sheila Foster (Fordham University School of Law), Sushil Jacob (Tuttle Law Group, SF), Kali Murray (Marquette University Law School), Lisa Pruitt (University of California Davis School of Law), and Brandon Weiss (University of Missouri-Kansas City School of Law). Also attending, among another two dozen people, were Susan Jones (George Washington University Law School), Ted De Barbieri (Albany Law School), Matthew Rossman (Case Western Reserve University School of Law), Mark Aaronson (UC Hastings College of the Law), and others bringing extensive experience in the field.
The evolution of community economic development over the past several decades has witnessed dramatic growth in scale and complexity. New approaches to local development and related lawyering, philosophies underlying these new approaches, and dramatic changes in context challenge us to reimagine the framework of community economic development (CED). One goal of the January Discussion Group was to revisit and assess an array of practices, initiatives, and theories fitting for what we might describe as a new CED era, and to give further definition to "community development law" at a fluid moment in its history. An explicit outcome was to revive and nurture a continuing discussion in the legal academy about community development law and economic justice.
An account of the San Francisco Discussion Group on community development law and economic justice will appear in the Summer 2017 issue of the ABA Journal of Affordable Housing and Community Development Law, one of several vehicles for sustaining this vibrant discussion.