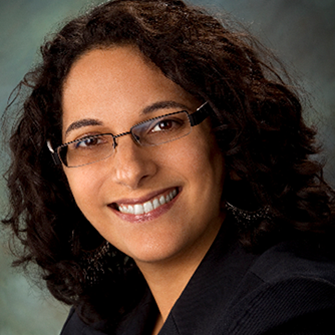 Rebecca (Hershey) Headen '07, combines the very best of intellect and action. She has been a champion for civil rights, starting as a young woman growing up in Maine. At Goodwill Industries International, Headen manages a program that matches mentors with juveniles in America's justice system, guiding them to success.
What is most fulfilling about your job?
Knowing that all the legal and non-legal skills I've developed need to come together to make the project run – and that I'm helping to build something that empowers underrepresented youth at one of their most vulnerable crossroads in life.
You have been a leader on human rights, civil rights, and racial justice issues since the 1990s both in Maine and at the national level. How is it that you became involved at such a young age, and who were your role models?
Growing up, it was just the way we lived – not a choice but an imperative – that life must be better for more people including ourselves, and that you can't wait to make it so, you must act now. In reality anyone at any age can commit to their community, whether you make a career of it or do it in your spare time. Civil rights inroads have always been made that way, at the local level, community-by-community; the trailblazers aren't always the most visible people or the most famous. I've been incredibly lucky to be surrounded by people who give their talents to the movement including my parents Ed and Victoria Hershey; my aunt Phyllis Rogers; Janet Johnson; June McKenzie; and Moses Sebunya in the NAACP Portland chapter, who made me believe change was possible, and a combination of legal shift and community empowerment was the method. Of course, we need to make it happen at all levels in order to make change. I set out to follow in our more well-known leaders' footsteps as well – especially Marian Wright Edelman, who at various times in her career has worked to change laws, hearts, and minds, and June Jordan, the poet-activist, because if you can't tell your own story, it's almost like it never happened.
After you graduated from Maine Law, you worked for the Racial Justice Project at the ACLU of North Carolina and then as a National Fellow for the Rights Working Group. What are some accomplishments you are proud of from those positions?
The beauty and the challenge of the ACLU is that it has such a terrifically long history of dedicated activism, and you can easily surround yourself in a bubble of progressive thinkers, which is exciting and fulfilling but not enough to push for change at large. I'm proud that at ACLU of NC we identified and responded to civil liberties needs in communities that had not traditionally participated in our affiliate, especially those in diverse immigrant and African American communities, which was incredibly rewarding. I was especially thrilled to introduce our work to the longtime ACLU membership who may not have associated some of the issues with civil liberties, like the school-to-prison pipeline and immigrants' rights. And with Rights Working Group, I had the honor of managing a series of hearings across the country on racial profiling, but I was particularly proud that I got to work with some very familiar leaders and organizations in setting up a hearing in Portland – my hometown and one of my favorite places in the world. It has been a place where not only outsiders but even some Mainers still believe there is no diversity, or if there is, that communities of color don't face discrimination. We showed Congress and the country that there is a vibrant and rich history of civil rights in Maine, and a new generation carrying on to make it an even better place to live for everyone.
How do you like to spend your time when you are not working?
Making trouble, mostly! Actually I have a great time hanging with my family (hang time that includes voter registration at the moment); I'm working on a blog about exploring race as a parent guiding kids through that potential delight/landmine, and running circles around my kids while they run circles around me. Oh, and since I moved to D.C., yoga. I need something to calm my commuter-mind.
What are some of your favorite memories of your time at Maine Law?
There are so many – mostly my memories revolve around the friends I made at Maine Law and still have. I had never been part of such a mutually supportive academic atmosphere. Law school wasn't supposed to be like that – you hear horror stories – but miraculously at Maine Law we made our own rules, and I think we succeeded because we pushed and challenged each other in that supportive way.
When you weren't in class or studying, where were you most likely to be found?
Asleep! There was little time for sleep. And, regular salsa dancing somewhere, anywhere in Portland. A person needs an outlet, you know.
How did your studies at Maine Law help prepare you for your career?
For me, there was a pragmatic approach to the Maine Law community that I craved. The philosophy and academics were a clear focus, but I was reassured because of the opportunities I had to observe and apply what we learned and to utilize the contacts made by the school with practicing attorneys, judges, and organizations to that end. I learned that I could definitely go a traditional route, and I was also shown the tools to make my own path.